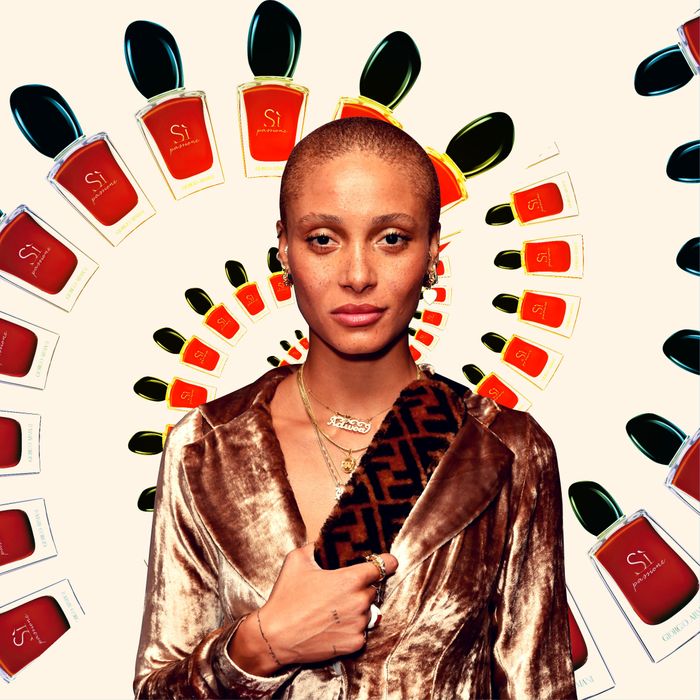 Adwoa Aboah.
Photo-Illustration: Stevie Remsberg/Getty Images
Call it the Proust effect: Memories are best triggered by smells. Scientific studies confirm that out of all the senses, smells and fragrance evoke the best recall. Our new feature, Scent Memories, will ask its subjects to talk about the scents they associate with different emotions and thoughts. Next up is Adwoa Aboah. The British model-of-the-moment is the face of Si Passione from Armani and the mind behind the young women's support group, Gurls Talk. She spoke with the Cut about the new fragrance, which has notes of rose and woody vanilla, and comes in a lipstick-red bottle. She told us about her favorite scents, including cocoa butter, lavender and man sweat.
My first scent memory: I've got two, actually. My mum, she just has such a distinct smell, she just smells so cozy. She smells like home and safety. My grandma used to wear this amazing Hermès perfume. And No. 3, actually, is my dad. He smells like cocoa butter and fresh laundry.
The smell I associate with love: We could get a bit naughty here, couldn't we? Like a sweaty boy smell. To be honest, I think when girls smell like sweat it's hideous. But there's a type of boy-sweat smell that smells so good. When you're kissing someone, it's like a kissing smell too.
Happiness smells like: I've got my sister and best friend who I call my sister. Those two, they wear lots of different products in their hair because they have their hair natural. There's something about their smells that make me feel really happy. Or cookies, like baked chocolate-chip cookies that are so fresh and hot.
Loss or heartbreak smells like: A salty tear. You know when you've just been crying loads and you can taste your tears and they're really salty and that's what reminds me of that.
Regret smells like: Cheap white wine. It's gotta be cheap. That really reminds me of regret. Do you have Malibu [rum] here? Definitely that. It's so rank.
Sunday morning smells like: Like an Earl Grey tea. Some people really hate the smell and say it tastes like perfume. But I love an Earl Grey tea and, dare I say it, the smell of a cigarette. But back home, Sunday morning newspapers that my mum and dad are reading.
Friendship smells like: All different types of smells because I have all different types of friends. Or, some sort of home-cooked meal, when I have all my girls over or I go to my friend's house. I'm bad at cooking but my sister's really good. We cook really spicy food. Also the smell of when you've been dancing all night, I don't know what that smell would be. But it's a good smell and not a sweat smell.
A pleasant surprise smells like: Materialistically, new clothes. That always makes me happy — that paper smell when you're unwrapping it.
Monday morning smells like: Washing-up liquid, because I usually do my dishes on Monday morning.
If you could have one smell on your hands forever, what would it be and why? There's this really good lavender hand sanitizer. But also, before I got to bed I put lavender on my hands.
I smell like: Cocoa butter mixed with Aesop deodorant mixed with lavender oil. I think I have quite a distinct smell.
If you buy something through our links, New York may earn an affiliate commission.