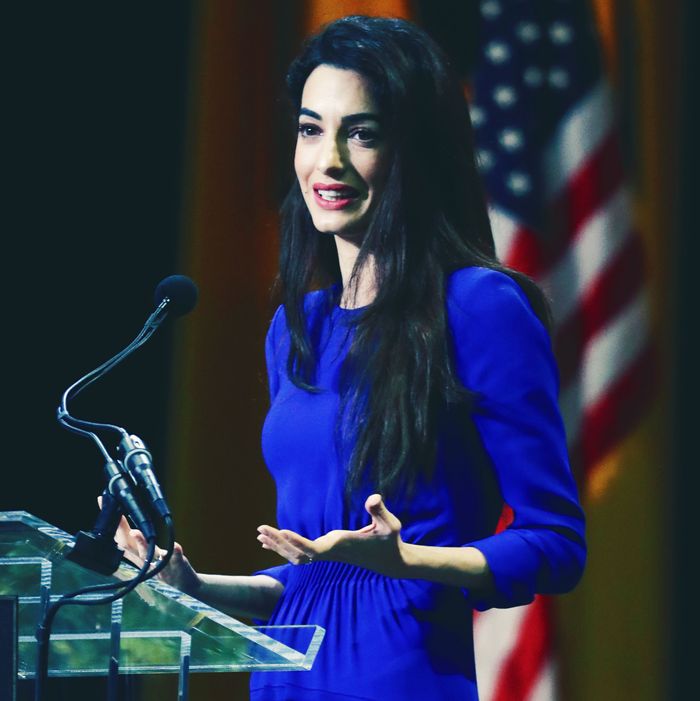 Amal Clooney at Vanderbilt.
Photo: Mark Humphrey/AP/REX/Shutterstock
Fresh off the heels of the Met Gala, international human-rights attorney Amal Clooney spoke about the importance of courage on Thursday during an inspiring speech at Vanderbilt University in Nashville, Tennessee.
Clooney headed to Nashville shortly after appearing in a stunning Richard Quinn pantdress outfit at the Catholicism-themed event, alongside her actor husband (a man named George). Appearing as part of the university's Senior Day commencement activities — and receiving Vanderbilt's Nichols-Chancellor's Medal — Clooney gave a rousing speech to inspire students to do good in the world.
"Courage, as they say, is contagious," Clooney told the class of 2018 during her 30-minute speech, according to the Tennessean. "People who have had the courage to change their societies, in India, in South Africa, in the United States, inspire each other and create rights for future generations … there is still much to do."
The speech also touched on the need to fight for equal rights and free speech. Per the Tennessean:
"Courage is needed more than ever," Clooney told the packed auditorium. "At a time when women all over the world face physical abuse, restrictions over their ability to work, own property, travel and even have custody over their children, we need courage. At a time when the LGBT on every continent struggles for equal rights, freedom from imprisonment and even death, we need courage. At a time when more journalists are imprisoned around the world than any time in the last three decades, and even here at home the media is under attack from the White House, we need courage."
Clooney has worked for years as an international human-rights attorney. She's represented political prisoners, jailed journalists, WikiLeaks founder Julian Assange, and Yazidi refugees, to name a few. The speech marked her first commencement address.