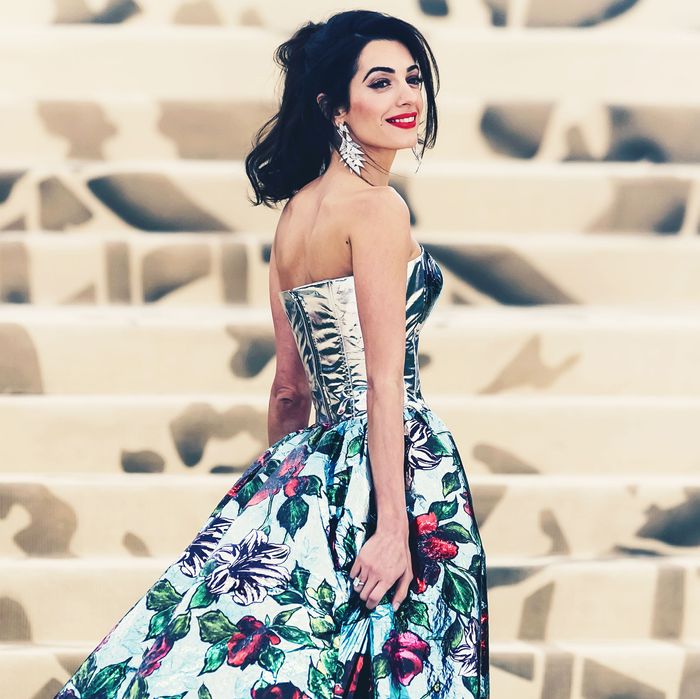 Amal Clooney INFURIATING people at the Met Gala.
Photo: Gilbert Carrasquillo/GC Images
It's been almost two weeks since the 2018 Met Gala, but the teams at Tom Ford and Vogue are reportedly still fully embracing the Catholic theme of moral indignation.
According to "Page Six," Met Gala co-chair Amal Clooney infuriated Tom Ford and Vogue with her last-minute outfit changes at the event. Clooney had reportedly been planning to wear a custom Tom Ford gown — a full-length, crimson dress designed to look like stained glass windows — but then decided to wear her "backup" Richard Quinn outfit down the red carpet instead.
Sources told "Page Six" that Vogue urged Clooney to stick to her original outfit (not surprising, given the amount of sway Vogue and Anna Wintour supposedly have over what Gala guests wear to the soirée) and that when she told the team at Tom Ford about her change of mind, they were "annoyed, obviously," but said it was fine as long as Clooney "not wear the dress at all if she wasn't going to wear it on the Met Ball red carpet."
Like a rebellious Catholic-school teen rolling up her skirt and smoking cigarettes in the bathroom, though, Clooney apparently flouted their request, and after walking the red carpet in a dramatic, floral Richard Quinn bustier and cigarette pants, changed into the Tom Ford gown once she was inside the Met. Sacrilege!
Vogue staffers allegedly feel especially uncomfortable about the debacle, given that Clooney is the magazine's May cover star. Awkward.
It only took the Catholic church about 350 years to move past the drama of Galileo saying the Earth revolved around the Sun — how long do you think it will take fashion to move past this gaffe?
When reached for comment, Tom Ford declined to comment on the report, and Vogue told the Cut: "We thought Amal looked beautiful and loved working with her."
Peace be with everyone involved.
This post has been updated with comments from Vogue and Tom Ford.