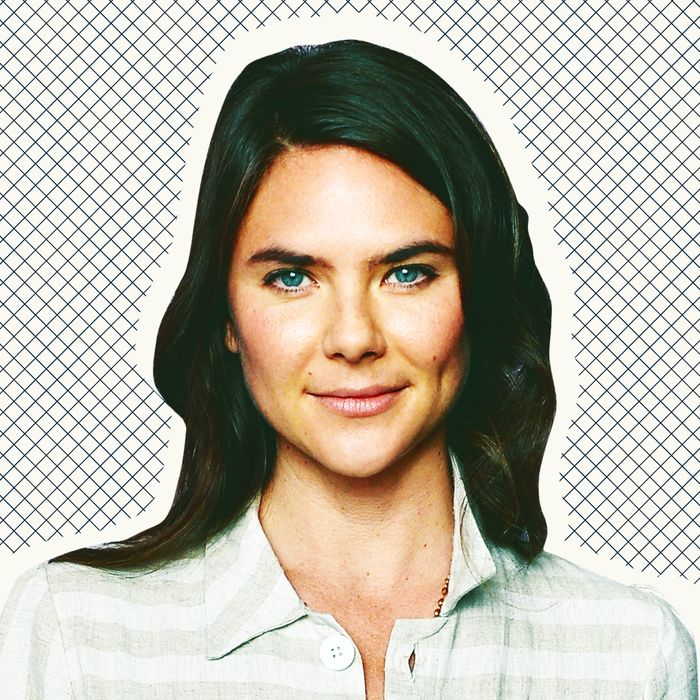 When you've been freebasing the adaptogens.
Photo: Stefanie Keenan/Getty Images
If you're unfamiliar with Amanda Chantal Bacon — the Moon Juice founder famous for writing a food diary full of unrecognizable ingredients and feuding with Father John Misty over a crystal — I highly suggest you go back and read the approximately 300 deranged blog posts I wrote about her first. For everyone else, welcome. I'm so happy you're here to share this moment with me.
If you haven't been keeping up since Crystalgate, Bacon recently married Devendra Banhart–adjacent musician Gregory Rogove. Healthyish, Bon Appétit's premiere spin-off site for grain bowl pornography, got the details on her wedding cake — and, never one to pass up a chance to ingest a dubious blend of herbs, it appears she requested that it include her signature Sex Dust. (Other ingredients include "almond flour, super-dark heirloom criollo cacao, coconut oil, Himalayan pink salt, and maple syrup.") Bacon, in expressing her deep happiness, complimented the one thing we all know and love the most about cake: its … anti-inflammatory qualities.
"I really didn't care how it looked, just that it was delicious, potent, free of ingredients that would cause inflammation, and was made by a friend," said Bacon. "I knew Laurel was the only person for the job. She could really appreciate a 90 percent cacao ganache and not be intimidated by the Sex Dust."
Now I don't know if it's my tendency to cry at weddings or the fact that the combination of horny powder, bitter dark chocolate, and utter lack of refined sugar is so unbelievably on-the-nose but — I think I can feel the tears coming on. Congratulations, you crazy kids!