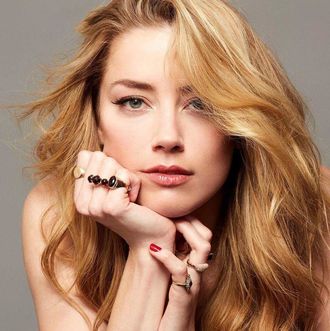 Amber Heard.
Photo: PRNewsfoto/L'Oreal Paris
Have you … heard? L'Oréal Paris just added another big name to their roster of celebrity global ambassadors: Amber Heard. The makeup giant announced Heard's new role while she attended the Cannes Film Festival today.
Throughout her years of modeling and acting, Heard has consistently used her platform to bring awareness to issues she cares about, and that's exactly what L'Oréal Paris loved about her. The company chose her for her outspoken nature and fearless attitude, which she has displayed discussing topics such as her divorce from Johnny Depp and human rights among Syrian refugees in Jordan. The brand applauded her acting career, advocacy, and philanthropy work and said they all "make her a powerful ambassador for L'Oréal Paris as we take 'Because I'm Worth It' beauty into 2018."
In a press release, Heard mentioned how excited she is to join the L'Oréal Paris team and said, "I feel like these women — my fellow ambassadors — represent a voice, a power, a movement, an opinion." Inspiring!
L'Oréal Paris and Heard have already partnered to create her Cannes makeup look. They also teamed up on a Cannes advertisement in which Heard gets dolled up like a '40s Hollywood starlet.
Her ambassadorship will also continue with a talk show, the Worth It Show, which covers women in film and beauty and was inspired by L'Oréal's memorable slogan.