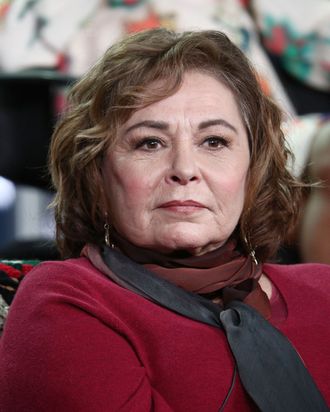 Roseanne Barr.
Photo: Frederick M. Brown/Getty Images
Because the hits just keep on coming, pharmaceutical company Sanofi has broken its silence on Roseanne Barr's claim that a racist tweet was a, um, side effect of taking Ambien during Memorial Day weekend. On Tuesday, Barr posted a tweet saying Obama administration advisor Valerie Jarrett was the product of of the Muslim Brotherhood and Planet of the Apes. Barr issued an apology and said (in a now-deleted tweet)that she was "ambien tweeting." She then clarified that the drug wasn't an excuse, she was just adding context. "Yes, I have had odd ambien experiences on tweeting late at night-like many other ppl do," she tweeted.
Sanofi, which produces the prescription sedative used to treat insomnia, has very politely issued its own clarification: Roseanne's racist tweet was not a result of the drug. "People of all races, religions and nationalities work at Sanofi every day to improve the lives of people around the world," the company said. "While all pharmaceutical treatments have side effects, racism is not a known side effect of any Sanofi medication."
Perhaps whoever's running Sanofi's social media could help Drake with his Pusha-T rebuttal?