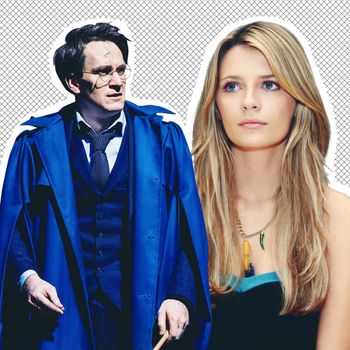 Photo: Manuel Harlan, Getty Images
Mild spoilers for Harry Potter and the Cursed Child below.
Did you know that Imogen Heap did the music for the new Harry Potter and the Cursed Child play, now appearing at Broadway's Lyric Theatre in all its six-hour glory? I did not, so I was caught off guard when I went to see the play last weekend and heard the familiar strains of Heap's 2005 sad-boy anthem "Hide and Seek" — albeit with a slightly different arrangement — playing during a scene in Hogwarts' Forbidden Forest.
This song choice was particularly surprising given that most of the soundtrack is instrumental, and plays an essential role in transporting viewers out of midtown Manhattan and into the show's magical world. Yet few songs are more likely to take you out of a story and plunge you back into real-world pop culture than "Hide and Seek," whose melancholic bars will forever be associated with the fateful moment that Marissa shot Trey on The O.C., or the time Bill Hader and Andy Samberg riffed on its meme status and murdered each other in a now-legendary SNL sketch. (Note: The play only includes the "Hide and Seek" chorus, and not the iconic "Mm Whatcha Say?" bridge.)
Unfortunately, the show's very secretive spoiler policy does not permit me to reveal whether the rest of the Harry Potter gang pull a "Dear Sister" on each other with Unforgivable Curses by the play's end, so you'll have to go see it for yourself and find out.