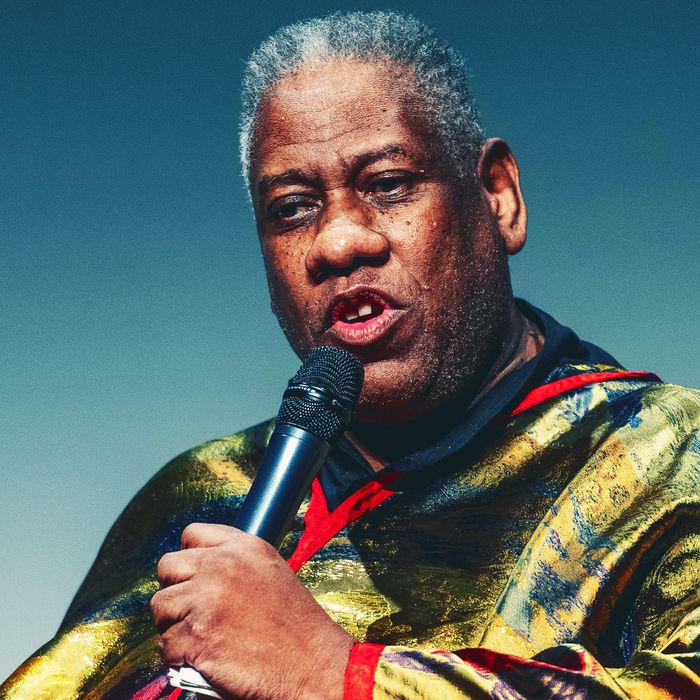 André Leon Talley.
Photo: Roy Rochlin/Getty Images for Tribeca Film Fe
Fashion followers know former Vogue editor André Leon Talley for his larger-than-life personality, penchant for caftans, and Met Gala commentary. On the surface, he is a mythical figure — someone who has the ear of Anna Wintour, keeps Dapper Dan on call for custom caftans, and wears Louis Vuitton to play tennis. But a new documentary, The Gospel According to André, shows the challenges he faced as a black gay man rising in the fashion industry in the '80s. In a new interview with the New York Times, Talley opens up even more about the obstacles he still faces in what he describes as an "arctic" industry. Here are five things we learned from Talley in the new report.
He's broke.
In addition to telling the Times, flatly, "I'm broke," Talley elaborated that he worries about becoming a beloved fashion figure abandoned by the tribe.
He also thinks a lot about Josephine Baker, who died destitute, and Loulou de la Falaise, a Saint Laurent muse, who likewise died poor and largely abandoned by the fashion world, as a recent oral history by Christopher Petkanas makes clear. "I am very afraid of that," Mr. Talley said. "Fashion does not take care of its people. No one is going to take care of me, except I am going to take care of myself."
He was called racial slurs by prominent people in the industry.
He tells a story in the documentary about being called "Queen Kong" by the Parisian fashion set, a slur coined by the head of PR for Yves Saint Laurent. He also recounted how a male boss told him that the rumor was that he was sleeping with every designer in Paris. "I got my success on my looks and my knowledge, not my sexual appeal," he said. "Am I supposed to be a buck, servicing sexually everybody in Paris? That was a very racist thing."
Some of his public friends have "dropped him."
Few people seem to be as in the know as Talley. However, he says that some of his most prominent friends, including Miuccia Prada and Karl Lagerfeld, have "dropped him." Even Wintour treats him with alternating warmth and iciness (but maybe that's not surprising).
He is still loyal to Ms. Wintour, the editor of Vogue. "Most days, she treats me like family," he said. "I know she cares for me deeply. But other days, she treats me like the proverbial black sheep, that family member who is left out, shut out, to be avoided." He paused. "I wish fashion was an easier zone to navigate through. It's arctic: You have to get through so many icebergs. It's very cruel, yet it can also be very exciting."
Alternatively, his friends also say he is equally hard to reach. Von Furstenberg said, "you have to work at being his friend. It is not always easy. Sometimes he doesn't call for months."
He started wearing caftans because he couldn't fit into his suits anymore.
Talley is known for wearing large billowing layers of fabric in the form of caftans and capes. But, he traded in the bespoke suits he wore in the '80s for caftans about ten years ago because he couldn't fit into his suits. He later elaborates that he started gaining weight when his grandmother, who raised him, passed away in 1989. Wintour and the late designer Oscar de la Renta "staged an intervention" for his health.
He thinks diversity in fashion isn't moving fast enough.
In Talley's view, the main signs of success are Edward Enninful's appointment as the editor-in-chief of British Vogue and Virgil Abloh's rise at Louis Vuitton. Enninful, in turn, thinks Talley will be an inspiration to young black people entering the fashion world. "It will mean a lot to a new generation to see that there was this man who grew up in the South and through all obstacles made it."