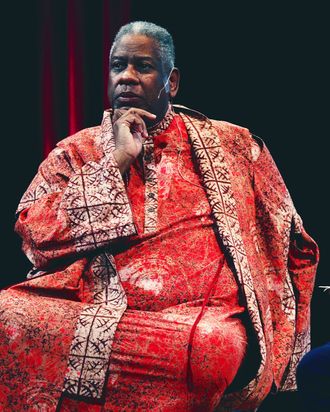 André Leon Talley.
Photo: Taylor Hill/Getty Images
In a new documentary on former Vogue fashion editor-at-large, André Leon Talley, it is made clear that Talley is not only a larger than life personality himself, but also someone who was raised by the industry's biggest and brightest of stars.
Andy Warhol was Talley's first boss. He answered phones at Interview magazine, but as Talley recalled at a recent screening of The Gospel According to André, he quickly went from "sweeping the floors to going out with [Warhol] every night."
Talley would later report to Anna Wintour, working his way into her inner circle as well — he claims he even caught the bouquet at her wedding. "I wouldn't be here if it weren't for Anna Wintour," Talley says. "I owe her my life and my career."
The "most influential" person in Talley's life though was the late Diana Vreeland, whom he assisted at the Metropolitan Museum of Art after she was fired from her role at Vogue. When he first met her, he hid behind a column because he was so scared. But five minutes later, he was called into her office and told to "stay by [her] side" as she curated the "Romantic and Glamorous Hollywood Design" show.
"She wouldn't say, 'André, would you please go hang that gold lamé dress on that mannequin?'," Talley recalls in the same dramatic speak as the late Ms. Vreeland. Rather, she would create a narrative for the dress, oftentimes acting out the woman who wore it. "She talked the way people write in literature," Talley says. "She challenged you without giving banal instructions."
In an exclusive clip from The Gospel According to André, Talley visits the Museum at FIT to see some of Vreeland's personal collection. See his reactions, below.