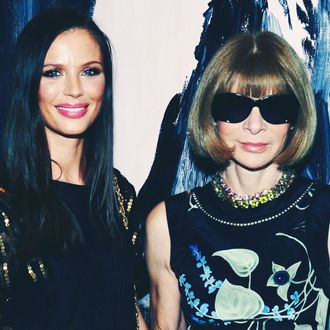 Georgina Chapman and Anna Wintour.
Photo: Ilya S. Savenok/Getty Images
Anna Wintour is our Fashion Pope, the infallible ruler of Vogue, fashion's Vatican. Both because of her reputation — which is the stuff of pop-culture legend — and the reality of her power, she's not someone anyone in the industry dares cross. When she invites you to spend $275,000 on a table at the Met Gala, you say yes. It's quietly acknowledged that stars invited to the Met Gala do not choose their dresses or their seatmates and that every last detail must be approved by Wintour herself. Her influence is vast. And now, just days after her Catholic-themed dinner party, where Scarlett Johansson wore a dress designed by Harvey Weinstein's estranged wife, fashion's highest authority comes out with an editor's letter and article in Vogue, supporting Georgina Chapman and declaring her innocence. This is not a casual orchestration.
In her June letter, which was published early on vogue.com, she describes her long friendship with Georgina Chapman, who she says was "near mute with shock, trying to process the emotions — anger, guilt, revulsion, fear" in the time after the scandal broke. The firm tone of the letter leaves little room for debate. Chapman, she writes, "is essentially quite old-fashioned," a "good daughter" who grew up to be a "good wife" — offering her up as a version of feminine virtue and submission that's curiously retrograde for a modern magazine. Anna claims that Chapman "had no idea about her husband's behavior," and asserts that, "blaming her for any of it, as too many have in our gladiatorial digital age, is wrong."
I do not blame Georgina Chapman. Neither am I convinced there's any obligation to give her a comeback in Vogue.
Lives and careers were destroyed by Harvey, and tragically, that includes his own family. But that doesn't mean they deserve more social rehabilitation than his other victims. When Anna Wintour puts Ashley Judd, Rose McGowan, Rosanna Arquette, Mira Sorvino, or one of the dozens of women who came forward to accuse Weinstein on the cover of Vogue — when she uses her power to get Asia Argento a movie role or a beauty contract — then maybe we can applaud her efforts.
Instead, with this letter, Wintour positions herself alongside Chapman: They were two women close to Harvey who both claimed to know nothing of his crimes but benefitted from association with his power. Just look at the pipeline of Weinstein's starlets that graced the covers of Vogue, some of them wearing Marchesa. By asking us to forgive and forget for Chapman, Wintour asks that we do the same for her.
But when we ignore situations that hurt others because they benefit us, we are complicit. (So Scarlett Johansson, who wore Chapman's dress to the Met Gala, reminded us in her portrayal of Ivanka Trump.) And this is not the first time Wintour has come out in support of a disgraced designer or endorsed questionable people in the name of fashion — it might not even be the most egregious. Let's not forget the Galliano goodwill tour she embarked on after the designer's anti-Semitic rant in a Paris restaurant. Let's not forget the glowing lifestyle portrait of Assad's wife on the eve of his butchery of his own people.
In 1995, Anna Wintour went on Charlie Rose for a discussion that was ostensibly to be about the magazine's September issue. The clip is remarkable for many reasons — the mention of a new designer named Miuccia Prada, for example — but not long into the discussion it becomes clear why the editrix has really come to the show: to answer questions about a recent fashion scandal involving Calvin Klein.
Klein had just released an ad campaign that referenced child porn, and the public was not happy. The Justice Department even opened an investigation into whether the campaign violated child porn laws (it didn't, in the end). It was a big enough scandal to merit attention on what was then a very serious television show. If you've not seen these ads, Google them and try to find the videos that accompanied the photos. They are deeply unsettling and there can be no mistaking their intention. Watching them in the wake of #MeToo is almost too painful when you think of what the models who endured sexual assault have described.
I recently went back to watch the clip again, when Rose's own sex scandals emerged. Wintour defends Calvin, saying, "I see absolutely nothing wrong with it." She explains that fashion is one big provocation, and chides the American Public for being a bunch of prudes. It's a deft maneuver that Rose barely challenges. Calvin Klein was surely one of Vogue's biggest advertisers at the time, and she didn't care that the ad campaign was exploitative or what message it sent. Defending the ads was not a small thing: It was a public statement of her value system.
Fashion makes hypocrites of us all at one point or another. We take money from companies whose politics we don't always agree with, or we have problematic faves. (I love Galliano, still.) But what is the point of this rehabilitation at this time? It's very hard to understand. This is not a designer with Galliano-level talent. Chapman's career was funded and made possible by affiliation with her powerful husband and his equally powerful fashion-editor friend. Now that editor has ensured her return to the very red carpet where so many actresses were pushed to wear her dresses, despite her affiliation with a known bully and abuser. This is how Anna Wintour chooses to use her power.