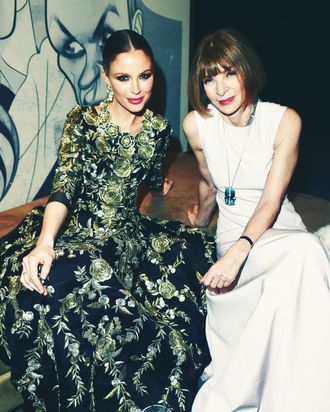 Georgina Chapman and Anna Wintour.
Photo: Jeff Vespa/VF15/WireImage
In her June Vogue editor's letter, published Thursday, Anna Wintour declares she is "firmly convinced" that Harvey Weinstein's wife, Georgina Chapman, "had no idea about her husband's behavior." She adds that "blaming her for any of it, as too many have in our gladiatorial digital age, is wrong."
Wintour says she saw Chapman "not long" after the news broke in the Times this October of her husband's sexual predations from 1990–2015. "She was near mute with shock," Wintour recalls of their meeting. "Trying to process the emotions — anger, guilt, revulsion, fear — as well as grappling with the terrible wider human cost in all of this."
In the months since, Wintour has been slowly helping Chapman plot both her personal comeback, and the comeback of her brand, Marchesa. It is no coincidence that actress Scarlett Johansson wore the designer to the Met Gala on Monday — an event orchestrated from top to bottom by Wintour herself, who often approves celebrity outfits before they hit the red carpet.
In a quote provided to the Cut on Wednesday, Johansson said that she wore Marchesa because she wanted to show her support for the women behind the brand. "I wore Marchesa because their clothes make women feel confident and beautiful and it is my pleasure to support a brand created by two incredibly talented and important female designers," she said.
Then, on Wednesday evening, Wintour told Stephen Colbert on The Late Show: "I think it was a great gesture of support on Scarlett's part to wear a dress like that — a beautiful dress like that — on such a public occasion."
Wintour and Chapman first met back in 2004, when Chapman and her partner, Keren Craig launched their label, Marchesa. (Wintour, Weinstein, and Vogue also had a long and mutually beneficial relationship.) Wintour describes Chapman as being "warm, funny, and extremely self-deprecating." As well as "quite old-fashioned" and "the good wife." She adored her husband until everything went south, in what Wintour describes as "the blink of an eye."
In an accompanying interview with writer Jonathan Van Meter, done in February, Chapman echoes Wintour's descriptions. She says that as the news about her husband poured in, she stopped being able to keep food down and lost ten pounds in five days. She hadn't been out in public in five months.
The night before Van Meter arrived at Chapman's home, she called to say she was "not ready to address anything too difficult, did not feel prepared." He assured her that he was going write about her life before Weinstein, which, he does. At great length. But there is also much sobbing on the subject of Weinstein and her children — stuff Chapman says she "wasn't prepared to say."
The piece, which describes Chapman more than once as "goofy," also paints her as someone who does not enjoy attention — someone who might, say, have to be coaxed into a Vogue profile. It was her decision to cancel Marchesa's fall 2018 runway show in January, and not to offer any clothes for awards season.
"We didn't feel it was appropriate given the situation," Chapman says. "All the women who have been hurt deserve dignity and respect, so I want to give it the time it deserves. It's a time for mourning, really." Still, people reached out with interest, including Scarlett Johansson and presumably Anna Wintour. Others, however, still won't go near the brand with a ten-foot pole.
Chapman says she quietly kept her operation running behind the scenes so that her loyal employees could be paid and pay their rents. Chapman's own financial situation also comes into question, but she dodges specifics. However, the piece does reveal her purchase of a farm upstate after selling her three family homes with Weinstein.
On March 18, Chapman emerged to attend a board meeting of the Council of Fashion Designers of America — an organization with which Wintour is heavily involved. According to the Times, Chapman was greeted by applause from the designers in the room.
It is indisputable that Chapman's husband had a hand in supporting her brand. A firm one — Jessica Chastain says she was bullied for refusing to wear it. But the counter-argument is that Chapman's talent is her own, and worth supporting. Sure, Marchesa dresses are pretty. But a lot of brands are pretty. Why is Anna Wintour so bent on salvaging Marchesa's image, along with Chapman's?
In the end, Chapman and Wintour seem to be trying to say something much larger about the effects of #MeToo, and how we treat the "good women who married bad men," to use Neil Gaiman's words. (Gaiman is Chapman's friend and a former collaborator with Weinstein.) As well as, perhaps, the women who wheeled and dealed with bad men in service of what they thought was a greater good.
"I don't want to be viewed as a victim," Chapman says, "because I don't think I am. I am a woman in a shit situation, but it's not unique."
"This particular club, ironically, it's not such a small one," adds the wife of Anthony Weiner, Huma Abedin, who is also quoted in Van Meter's piece. "People don't feel sorry for us; you don't get that empathy," she adds. "People think you're beautiful, you're thin, you're rich, you're photographed on the red carpet, and you get stuck in this category. There's so much more depth beyond all that with Georgina."
"I believe that one should not hold a person responsible for the actions of his or her partner," Wintour concludes in her editor's letter — never mentioning whether or not she herself knew about Weinstein's transgressions. "What Georgina should be receiving is our compassion and understanding."
Ironically, Wintour's orchestration of Chapman's comeback through magazine articles, red carpet, and Late Show appearances seems like something Weinstein himself would do. Whether or not Wintour is using his tactics for good this time is the question.
This article has been updated to show that Chapman did not have a magazine cover.