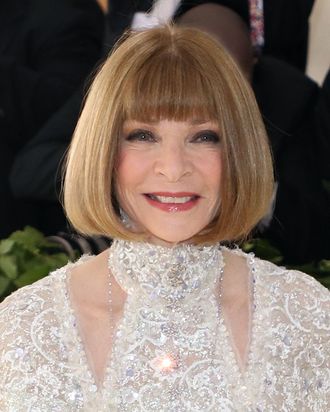 Anna Wintour at the 2018 Met Gala.
Photo: Taylor Hill/Getty Images
Technically speaking, organized western religion introduced Psalm 23 — the book in the bible mostly written by David — to the world, but if you were a kid growing up in the '90s, you might have stumbled upon fragments of the verse in a rap song. Coolio's "Gangsta's Paradise" mashed the psalm to an unforgettable beat in 1995, and last night at the Met Gala, Vogue married that version with Anna Wintour and high fashion. It all played into the evening's theme: "Heavenly Bodies: Fashion and the Catholic Imagination."
For the past few years, the Vogue Met Gala video team has produced incredible footage to accompany the costumed event. Last night videographer Bardia Zeinali was on hand to direct these miniature videos, and his team released Anna Wintour's solo 10-second video on Instagram first (other videos include a Kardashian staring contest, a twirling Pope Rihanna, and a wingèd Katy Perry who is also walking to the soundtrack of "Gangsta's Paradise").
In the video, the Vogue editor-in-chief stood still at the Metropolitan Museum of Art wearing a Chanel dress, and with her hands clasped together. The introduction to "Gangsta's Paradise" played over this scene, as if to suggest something: Anna Wintour is … a gangster? Anna Wintour is … cool? Who's to say, really? It's a shame the video ends so abruptly. While a video of Anna Wintour set to "Gangsta's Paradise" is social-media gold, a video of Anna Wintour dancing to said song would be priceless.