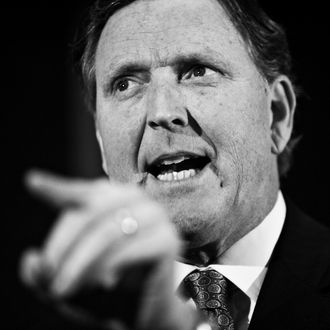 Bob Vander Plaats.
Photo: Andrew Harrer/Bloomberg via Getty Images
It's not especially difficult to imagine the political art a pro-choice activist might have hanging on their walls: perhaps a print of Barbara Kruger's iconic Your Body Is a Battleground silkscreen, or maybe a framed poster of a protest chant, like "My Body, My Choice." But how would an outspoken anti-abortion activist decorate their office? Here's one idea: with a disconcerting painting of themselves, a Bible, and anti-abortion president Donald Trump.
Earlier this month, Iowa governor Kim Reynolds signed the nation's strictest abortion bill, which bans most terminations after a fetal heartbeat can be detected. A Tuesday Guardian report centers on the coalition of anti-abortion activists that pushed lawmakers to pass this ban, including Bob Vander Plaats, who's the CEO of the socially conservative organization Family Leader, as well as the owner of a highly unsettling piece of art.
The Guardian describes the portrait as one where "Donald Trump's face looms over Vander Plaats speaking to a congregation, heads bowed," which fails to mention that the painting also features an excerpt from Genesis 1:1 and a cross, and that Trump's head is eerily floating among the clouds. According to the report, the work hangs in the Family Leader's office near Des Moines, Iowa, on a wall predominately decorated with photos of significant political events.
Everyone was right: Political art under Trump has been especially provocative!