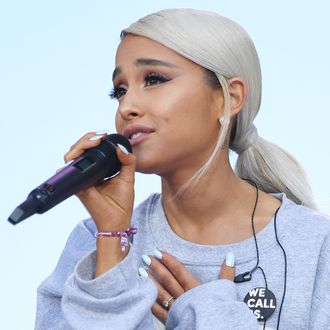 Photo: Jim Watson/AFP/Getty Images
After Ariana Grande and Mac Miller announced their separation earlier this month, a fan's tweet about their relationship went viral. "Mac Miller totalling [sic] his G wagon and getting a DUI after Ariana Grande dumped him for another dude after he poured his heart out on a ten song album to her called the divine feminine is just the most heartbreaking thing happening in Hollywood," @FlintElijah wrote.
On Wednesday, Ariana responded to the fan's criticism, calling out the inherent sexism in holding her accountable for her ex's actions. "How absurd that you minimize female self-respect and self-worth by saying someone should stay in a toxic relationship because he wrote an album about them, which btw isn't the case (just Cinderella is ab me)," Grande wrote in a Notes app screenshot posted to her Twitter. "I am not a babysitter or a mother and no woman should feel that they need to be. I have cared for him and tried to support his sobriety and prayed for his balance for years (and always will of course) but shaming/blaming women for a man's inability to keep his shit together is a very major problem. Let's please stop doing that." See her full reply below:
Last week, Miller crashed his car into an electrical pole in the San Fernando Valley of Los Angeles. The rapper's blood-alcohol level was reportedly 0.15, almost twice California's legal limit.