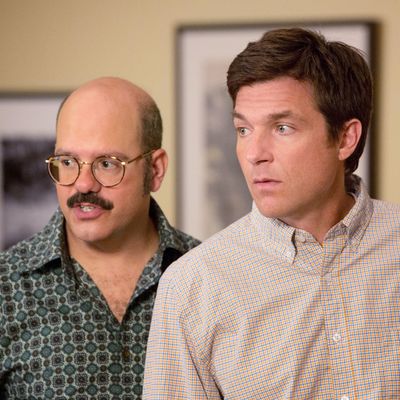 Arrested Development
.
Photo: Mike Yarish/Netflix
Are you excited to be reunited with the fun-loving Bluth clan on Arrested Development season five, and would you like that excitement to remain untarnished? Then do yourself a favor and skip this New York Times interview with the cast (minus Michael Cera and Portia de Rossi, who were frankly smart to sit this one out), in which the men of the cast trip over themselves to defend Jeffrey Tambor as Jessica Walter cries.
As you may recall, Jeffrey Tambor was fired from his role on Transparent after two cast members accused him of sexual harassment. In a recent Hollywood Reporter piece, Tambor denied all allegations of harassment but acknowledged that he had a tendency to have on-set outbursts, and that he once had a "blow up" at Jessica Walter for which he "profusely apologized." But the moment the interviewer brings up the allegations against Tambor, Jason Bateman rushes to his defense.
Jeffrey, if there's another season, do you expect to be a part of it?

TAMBOR: I surely hope so.

BATEMAN: Well, I won't do it without you. I can tell you that.    
The interviewer then brings up the time that Tambor verbally abused Jessica Walter on set. Once again, Bateman, who does not acquit himself well in this interview, chimes in.
BATEMAN: Which we've all done, by the way.

WALTER: Oh! You've never yelled at me.

BATEMAN: Not to belittle what happened.

WALTER: You've never yelled at me like that.

BATEMAN: But this is a family and families, you know, have love, laughter, arguments — again, not to belittle it, but a lot of stuff happens in 15 years. I know nothing about Transparent but I do know a lot about Arrested Development. And I can say that no matter what anybody in this room has ever done — and we've all done a lot, with each other, for each other, against each other — I wouldn't trade it for the world and I have zero complaints.
Aw, a family! That's sweet. Then crazy uncle David Cross decides it's time to weigh in.
CROSS: You know, one thing that Jeffrey has said a number of times that I think is important, that you don't often hear from somebody in his position, is that he learned from the experience and he's listening and learning and growing. That's important to remember.
After Bateman tries to explain that the entertainment industry has "difficult" people and that making art is an "amorphous process" and "certain people have certain processes," Alia Shawkat, the only other voice of reason on set, points out that having a creative process isn't an excuse for verbal abuse.
SHAWKAT: But that doesn't mean it's acceptable. And the point is that things are changing, and people need to respect each other differently.
Jessica Walter then starts crying in the interview, which you'd think might set off some concern in her cast-mates.
WALTER [THROUGH TEARS]: Let me just say one thing that I just realized in this conversation. I have to let go of being angry at him. He never crossed the line on our show, with any, you know, sexual whatever. Verbally, yes, he harassed me, but he did apologize. I have to let it go. [Turns to Tambor.] And I have to give you a chance to, you know, for us to be friends again.

TAMBOR: Absolutely.

WALTER: But it's hard because honestly — Jason says this happens all the time. In like almost 60 years of working, I've never had anybody yell at me like that on a set. And it's hard to deal with, but I'm over it now. I just let it go right here, for the New York Times.
But nope! Not a single of her male castmates stops to comfort their crying cast member and instead goes on to defend alleged abuser Jeffrey Tambor. Here's Tony Hale:
HALE: But I will say, to Jason's point, we can be honest about the fact that — and not to build a thing — we've all had moments.

WALTER: But not like that, not like that. That was bad.

HALE: Not like that. But I'm saying we've worked together 15 years, there has been other points of anger coming out.
Bateman — always needing to have the last word, that Michael! — doubles down.
BATEMAN: Exactly. Again, there is context. What we do for a living is not normal, and therefore the process is not normal sometimes, and to expect it to be normal is to not understand what happens on set. Again, not to excuse it, Alia, but to be surprised by people having a wobbly route to their goal, their process — it's very rarely predictable. All I can say, personally, is I have never learned more from an actor that I've worked with than Jeffrey Tambor. And I consider him one of my favorite, most valued people in my life.
Dang, which kooky Arrested Development GIF should I use to summarize my feelings about this interview?