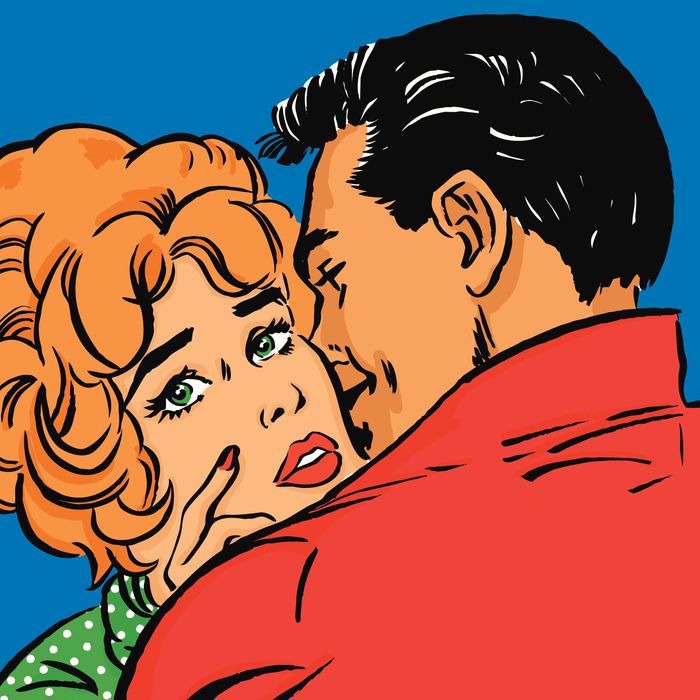 Photo: Jacquie Boyd/Getty Images/Ikon Images
About a year ago, a single male friend of mine mentioned that his efforts at finding a long-term relationship were being hamstrung by the fact that an increasing number of the women he met on dating apps were already married. Some were polyamorous, some in open marriages, but they all seemed to be seeking out extramarital relationship with a kind of freedom and shamelessness that wouldn't have been possible until recently. I became interested in the inner lives of such women, women rebelling against the constraints of monogamy or refusing to be married in the usual way. One woman, having heard about my interest, offered to tell me about her experience on Ashley Madison, a dating app designed for married people seeking out affairs. She told me that the experience wasn't at all what she thought it would be. There was an element of excitement and danger, but alongside that were feelings of loneliness, insecurity, isolation, and shame, the same feelings that made her want to cheat in the first place. It would be a relief, she said, just to tell someone what it was really like. Here is what she told me.
It was the day after New Year's Eve when I decided I wanted to have an affair. It didn't start in the usual way, with me meeting someone. It started with rage. I was home alone and I looked out my window and noticed a police car outside. The cop got out and knocked on our door and I got served with my husband's lawsuit. It turned out his business was being sued by the city. He was being sued for thousands of dollars and he hadn't even told me. I was so angry. It was at that moment that I decided I was going to have an affair. I didn't want to confront him about it. I didn't want another fight. I just wanted to do whatever I wanted. I wanted to do something that I would have total control over, because in the years we'd been married, I'd handed over so much of my autonomy. I'd married at 26. We'd merged finances. He was the one to make all the big decisions about our financial life, our business. I thought, well, I still have control over my body and he can't tell me what to do with it. So I went on a diet. I bought some new clothes. And then I set up a profile on Ashley Madison.
I was definitely nervous at first, but I liked that you can make your profile picture blurry to make yourself less identifiable, that the site offered some privacy. I liked that the men had to send me their photos first and I could evaluate them. Before I started, I imagined I'd get one message at a time, that it would all unfold slowly. But instead, I went to open my inbox one day and had like 50 messages. They just kept pouring in.
A lot of the messages were explicit, men sending pictures and asking for measurements. One sent a one-word message: Sex? I wasn't interested in just a hookup; I wanted more like a friend with benefits. I wanted someone who would be easy to talk to and have a good sense of humor. So I started sorting through messages, looking for ones that seemed to come from real people. It was kind of overwhelming.
Eventually I started chatting with a guy. We exchanged probably 50 emails. He was funny and seemed nice. We seemed to be clicking, but then he asked for my cup size. I told him I was, like, probably around a C. And then he stopped talking to me. And … ugh. It was so demoralizing. I took a break from the app.
Then I went back. I started chatting with another guy. We exchanged some good emails. He was married and had two kids. He said that with the kids, he and his wife had become like a business of managing children and just didn't have any sexual energy left. After a while, we agreed to meet in person. We both worked downtown so we found a coffee shop halfway between us. I remember trying on different outfits, taking forever to leave the house that morning. My husband asked me if I had an important meeting or something. "Yeah," I told him, then worried he might ask me for more details. He didn't.
I arrived exactly on time and he wasn't there, so I looked around and found a table near the back. Then I started to worry that I should have come a few minutes late, to not seem so desperate. I thought about going into the restroom and waiting but when I looked up from my phone, he was there. I found him very attractive, very charming. He sat down and didn't seem nervous at all, and I thought the conversation was good. After about 30 minutes, he smiled at me, and I thought he was going to ask if maybe we could get coffee again sometime soon, but instead, he kissed me. He just kissed me, right there in public.
It's hard to overstate how intense it feels to be kissed after so many years in a more or less sexless marriage. I sort of think about how in the movies, they'll sometimes bring someone back to life with the electric paddles after their heart has stopped. Well, that was how it felt. There was a part of me I assumed was dead and suddenly there it was, alive and kicking.
Anyway, we started getting lunch. He wanted to get a room but I didn't feel ready. I wanted us to make out first. We arranged a time to meet for drinks after work, went to a bar, then walked along the riverbank and made out. I didn't really feel afraid of getting caught. I don't feel like the rational part of my brain was working that efficiently. After that, we decided we'd set a date to get a hotel room. He's pretty high up the food chain at a major bank, so I know that he couldn't take time off whenever he wanted. But I was a little disappointed when he picked a day three weeks in the future. I think those weeks passed more slowly than any three weeks of my life. I was so nervous, so excited, so scared. I'd sit at my desk and fantasize about it, what I'd wear, what it would be like, what it would feel like. The whole thing made me feel sexually alive again.
And then, the day we were supposed to meet, he emailed me in the morning and said that he wasn't going to be able to make it. I was just … I was devastated. I felt so humiliated. I'd just gotten a bunch of rejections from grad school the day before, too. And I just felt empty. Then I started wondering if it was my fault he'd canceled because the day before I'd sent him some pictures of me and my dog and he hadn't responded. I felt like maybe that was being too clingy. Or, I don't know, just asking too much of him, like I was saying, Hey, I'm an actual person, look at me, look at my dog, and maybe he didn't want that? I felt awful. I deleted my Ashley Madison app. I deleted all his messages. I felt like I couldn't even succeed at cheating. People always think that when you're cheating, getting caught would be the worst thing. But trying to cheat and failing at it is pretty bad, too.
Anyway, I was pretty depressed after that. I felt more distanced from my husband than I ever had before and also my self-esteem was so low, I couldn't contemplate leaving. I felt like if I couldn't even get someone to cheat with me, how would I ever find another person I wanted to have sex with and have as a partner. There was a part of me that wished I could tell my husband about it, just for the support and reassurance, but obviously that wasn't possible.
I tried to distract myself with work. I got into a good graduate school, which helped a lot. At least someone wanted me! There was a moment where I thought about bringing up the idea of an open marriage to my husband, but something stopped me. I couldn't imagine him wanting to go out and date. And I imagined him sitting at home by himself while I was out with someone else, how terrible he'd feel. I wanted to protect him from that. In some ways I guess that's always been the problem in our marriage — my not wanting to hurt him or make him uncomfortable by making plain my needs, my always deferring to him and giving him the power, even when I grew to resent him for it.
A few weeks after the hotel date fell through, the guy started emailing me again. I responded and we've been sending messages now for about three months. We haven't consummated it but I feel like we both still want something. He said he still wanted to see me and for it to happen but needed some time. So in the meantime I started texting with that original match again, the one who asked about my cup size, and it seemed to be going well. And then after a few days he asked if I could send him a photo that would "at least give him a sense of my body type." At least. And I'm just … ugh … he thinks I'm too fat. At that point I just felt like, what am I doing? It occurred to me that this was one of the reasons I got married in the first place, to not feel so anxious and powerless, like the men had all the control. But then I ended up feeling that way in my marriage. Now, I was feeling that way in trying to have an affair.
I've been sexting with someone new, a new match from the site, Things were going well, until I realized that he wanted to have a threesome. I told him I didn't want that. I was looking for something else, sex yes, but also, a connection. He said he would be open to that … if I were willing to have a threesome. This is just the way it seems to go with me and men, my husband or otherwise. There's their needs, their desires, their priorities, and then beneath that — mine. I thought that maybe the problem was marriage or monogamy, but now I don't know. I don't know why no matter the scenario, they always seem to have the power.