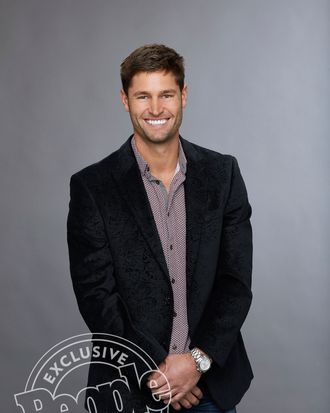 Alex, 31, construction manager.
Photo: Craig Sjodin/ABC/Courtesy of People
On May 28, Bachelorette Becca Kufrin will celebrate narrowly avoiding spending the rest of her life (or, in all likelihood, six months to a year) with Arie Luyendyk Jr., the human equivalent of a lukewarm bowl of oatmeal, by meeting 29 total strangers who will compete for her love on TV.
People released the names and bios of this season's contestants on Wednesday, and in addition to blindingly white teeth and lives that apparently allow them to drop everything and go on group dates for a couple of months, many of the contestants have the, uh, unique careers we've come to expect from the Bachelor universe.
See how many of the guys' real jobs you can spot, and meet all of this season's contestants here.
1. Banjoist
2. Stuntman
3. Underwater DJ
4. Colognoisseur
5. Foot model
6. Large-animal vet
7. Fitness coach
8. Social-media participant
9. Eyebrow stylist
10. Cool uncle
11. Grocery store owner
12. Bitcoin investor
13. Sports analyst
14. Enthusiast
Real: 1, 2, 4, 7, 8, 11, 13
Fake: 3, 5, 6, 9, 10, 12, 14