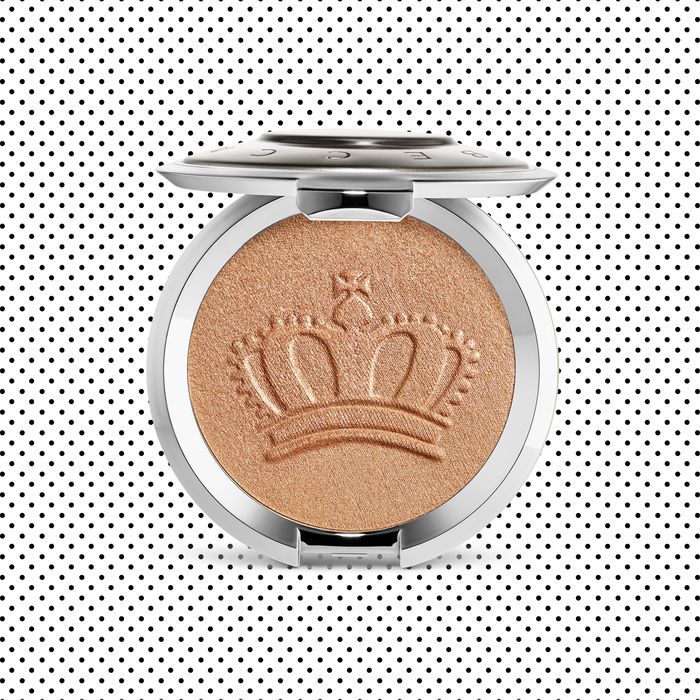 Photo: Courtesy of the Retailer
Perhaps it's all that yoga, buccal massages, humanitarian work, and marrying into the royal family that gives Meghan Markle that glow. For those of us who need a little extra help, BECCA Cosmetics has created a royal-inspired highlighter.
BECCA's Shimmering Skin Perfector Pressed Highlighter in Royal Glow looks like it is a blend of the brand's Opal and Topaz highlighters, resulting in an overall bronze and golden shade, said to be inspired by the crown jewels. Unlike the blinding glow BECCA's other highlighters can inflict on passersby, the brand claims that Royal Glow is understated —tasteful even — and the perfect highlighter for afternoon tea with the Queen. Or, more realistically, coffee with your desk mate.
The limited-edition highlighter comes in a special silver compact and has a pressed crown design that makes it look very official. While this highlighter is illuminating, it isn't filled with chunky sparkles. Becca's praiseworthy creamy texture makes the product glide on seamlessly. You can apply it using your brush or your fingers like Markle did in her on-the-go Uber makeup tutorial (filmed during her pre-princess days).
If you're looking for more royal-themed beauty, check out Charlotte Tilbury's queen-themed new collection or Floris London's official royal wedding perfume. The Royal Glow highlighter is available now on Becca's website and at John Lewis department stores, if you happen to find yourself in England.
If you buy something through our links, New York may earn an affiliate commission.