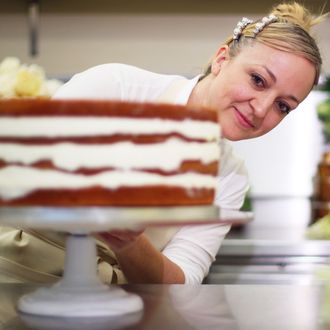 Baker Claire Ptak with her cake for the royal wedding.
Photo: WPA Pool/Getty Images
Baking a cake fit for royals is no small task, and according to Vanity Fair, the brave woman who prepared the one for Prince Harry and Meghan Markle's wedding (for £50,000) suffered from butter-related nightmares leading up to the May 19 ceremony.
For their big day, the newlyweds opted for a trendy lemon-elderflower cake made by Claire Ptak, the owner of Violet Cakes in Hackney, East London. In an interview with Vanity Fair royal expert Katie Nicholl, Ptak described her morning royal-wedding routine while hairstylist Serge Normant was perfecting Markle's perfect messy bun, the bishop was practicing his sermon, and Oprah was throwing on her last-minute dress.
"We had six people working five days straight to prepare the cakes to make sure they were alright," she told Nicholl. "We'd iced and finished it and it was kept chilled until the last possible minute when my head baker and I set it up three-and-a-half hours before the service. It took two hours to assemble."
What Ptak lost the most sleep over, though, was something that was relatively out of her control.
"I needed to be sure the icing was going to stand up to the atmosphere it was in," she said. "I knew the fresh buttercream was going to be hard to keep looking stable in a warm room with 600 people. It's so soft and so fresh that it was the most stressful part of [making] the cake. I had nightmares about it sliding off the table."
Fortunately, no major mishaps ensued, and some people were even asking for seconds. And regarding those who didn't ask for a second slice, they probably just knew there'd be midnight "dirty burgers" at the after-after-party.