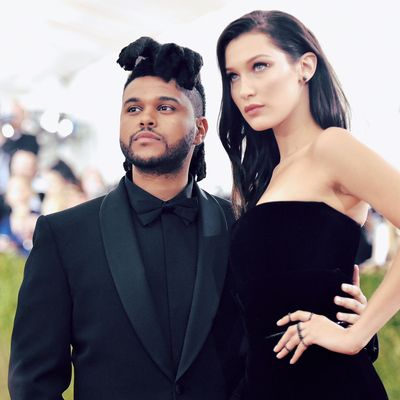 The Weeknd and Bella Hadid in simpler times.
Photo: Mike Coppola/2016 Getty Images
Thank you, celebrity sleuths, for capturing Bella Hadid and The Weeknd canoodling at Cannes. The former couple/possibly current couple were first seen hanging out at Coachella, but also got together at Cannes. And yes, there is photographic evidence. Here they are hanging out at a Magnum party (Hadid is the face of the ice-cream brand).
Smiling? Together?! Okay fine, it's not quite a smoking gun. But later, the two were caught kissing.
The two had split in 2016, and then The Weeknd started dating Selena Gomez. Hadid gave us some great post-breakup moments, including when she walked in the 2016 Victoria's Secret fashion show while he performed, and showed up to the 2017 Met Gala in a sexy catsuit (The Weekend was there with Gomez). When the rumors that the two had spent Coachella together surfaced, Bella denied the reports on Instagram. This will be harder to dismiss.