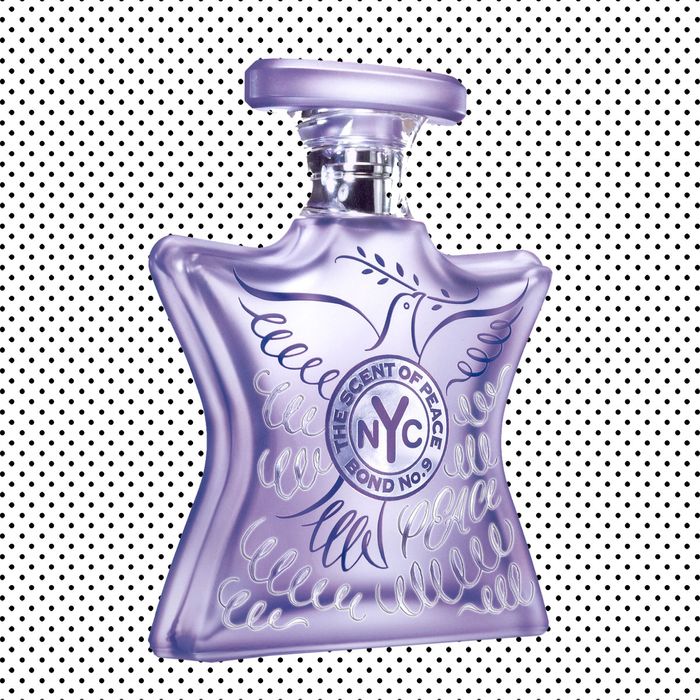 Photo: Courtesy of Bond No. 9
Seventy New York–themed fragrances later, Bond No. 9 New York has become the perfume house that specializes in translating the essence of New York into wearable fragrances. Now, the Noho-based company is making a scent to unify the boroughs. For a city that truly never sleeps and is as loud as it is crowded, peace isn't always easy to come by. But most of the time, New Yorkers make their best effort at making the city welcoming. Bond No. 9 took that sometimes fleeting feeling of peace and bottled it up to celebrate the city's character and future as a sanctuary for everyone.
According to Bond No. 9, The Scent of Peace is a sparkling unisex one. The latest scent from the women-owned and -operated brand smells like juicy grapefruit, black currant, and floral lily of the valley, with a rich base of cedar wood and musk. The fragrance is packaged in a starlike bottle, similar to all other Bond No. 9 bottles, and is fronted with an illustration of a dove.
Bond No. 9 also dedicated the scent to the United Nations and sponsored Seeds of Peace, an organization that supports young leaders from regions where there is conflict. And a portion of the sales will go toward the U.N. Women for Peace Association, which promotes equal access to education, protection from violence, and freedom to live in a peaceful and tolerant environment.
The Scent of Peace is available now at Saks Fifth Avenue and at select Bloomingdale's locations.
Photo: Courtesy of Bond No. 9
If you buy something through our links, New York may earn an affiliate commission.