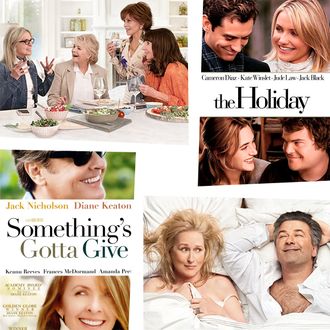 One of these is exactly like the other.
What's Good is a weekly column collecting TV, music, movies, and miscellaneous cultural ephemera worthy of your time. Why? Because we like it. Check back Fridays at lunchtime for your guide to what is good.
The Best Movie of the Summer, Book Club, is an Eileen Fisher–swathed rom-com about a quartet of septuagenarian pals who read Fifty Shades of Grey in their book club. Who knew reading soft-core smut could be life-changing? But let me tell you, these four women — a recent widow (Diane Keaton), a commitment-phobe who fucks (Jane Fonda), a federal judge who does not (Candice Bergen), and a frustrated wife too hot for her husband (Mary Steenburgen) — are rocked.
Perhaps you're thinking, "Book Club, that new Nancy Meyers movie?" And based off the trailer and subject matter, yes, I could see why you're thinking that. Meyers has an strong aesthetic that includes linen, overstuffed couches, and Diane Keaton. This movie does too. Meyers focuses on women in their late 30s to 70s who get theirs despite society/ex-husbands/ageists telling them they can't, and deal with yuppie no-problem problems in rich-people settings. This movie does as well. Meyers is all: careful sex, soft jazz, tapas, silver hair, magic hour, drama, bitches — and Book Club has all of that, too. If it wears swaths of linen like a Nancy Meyers movie, sips white wine like a Nancy Meyers movie, and bakes croissants like a Nancy Meyers movie, it must be a Nancy Meyers movie, right? Yet somehow, no. Let's investigate:
Homes Worthy of an Architectural Digest Shoot: A dwelling in a Nancy Meyers movie must have a bay window, casual yet elegant dining rooms, and perfectly cozy couches that came from Restoration Hardware. These must all be perfectly decorated, mostly in white. They must be worthy of awards for decoration, but feel effortless. (In fact, 2003's Something's Gotta Give earned an Oscar nomination for production design, her shit is that good.) Book Club: Bless this movie: It tries for Restoration Hardware and lands somewhere near Pottery Barn, which is just fine by me. Check.
Goblets Upon Goblets of White Wine: To quantify the white wine consumed across all of Nancy Meyers's oeuvre would be like asking me how many drops are in the ocean. Book Club: Drink every time someone hoists a goblet of crisp, chill white wine, and I'll pay for your funeral! Check!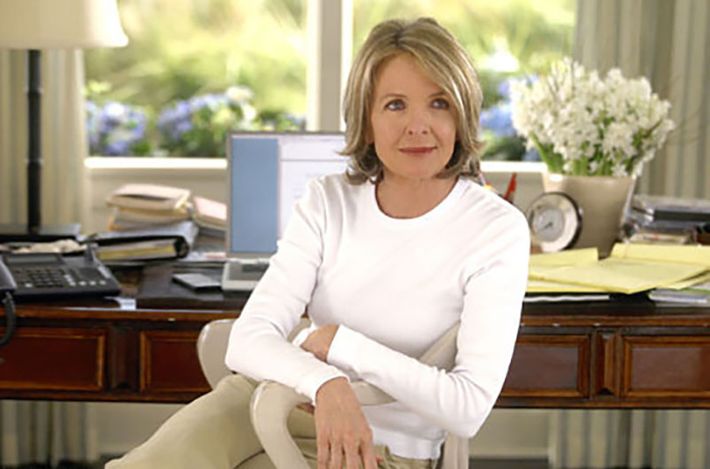 Diane Keaton Being Diane Keaton: From Father of the Bride to Something's Gotta Give, Keaton is the spirit animal of the Nancy Meyers universe. Her zany energy, her adorable neurosis, her weird "why do all men fall for her" energy — it's the foundation of the NM
vibe. Book Club:  Keaton accidentally grabs Andy Garcia's balls and (not at the same time) has to read Fifty Shades of Grey's dirtiest parts out loud while trying not to screech and giggle. Big ol' Check.
Beautifully arranged and plentiful snacks: Forget Martha — a Nancy Meyers kitchen is the platonic ideal shared of foods, be it Diane Keaton's cheese plates for her friends, or Meryl Streep's baked goods, or all the food they talk about in the Parent Trap. (Won't someone show me that cornbread and chili please?) Meyers makes films for gourmands. Book Club: Just for a simple hang, Mary Steenburgen prepares marinated tomatoes with mozzarella, spinach cakes, poached asparagus, and a meat and cheese spread that seems to include the entirety of Zabar's. While casually hanging out in the restaurant of her hotel, Fonda makes sure there are like 82 different cakes available while the pals coach Candice Bergen on her first date. Check!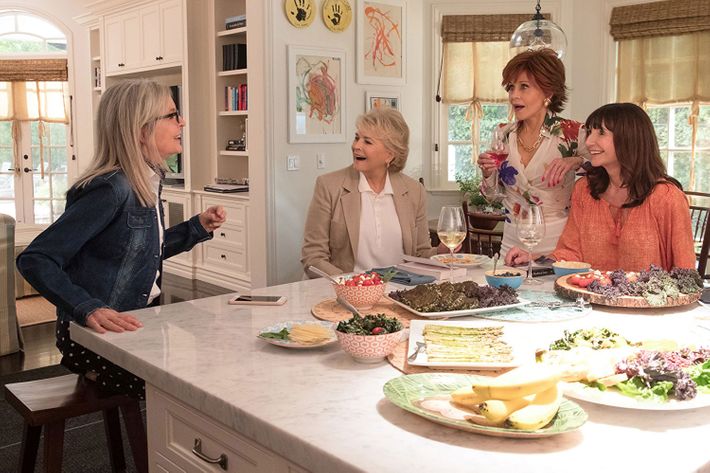 All-White Candles: In romance, in stress, in sickness, in health, Nancy Meyers is gonna set the world on fire with some giant, pure white Diptyque candles. Book Club: Jane Fonda lives in the hotel she owns, and her secret rooftop spot is a white-candle-laden fire hazard. Check.
All-Linen (or Cashmere or Comprable) Wardrobes: Nancy Meyers understands that women want to be comfortable and so allows all of her protagonists to be look resplendent and glowy and chic in loose-fitting suits and generously cut linen ensembles. She only wants her protagonists to dress in clothing that feels like like soft jazz sounds. Book Club: This is how you know the movie is Costco-brand Nancy Meyers. Jane Fonda wears structured suits in animal prints. Candice Bergen wears a dress that requires her to purchase Spanx. Mary Steenburgen dresses like American Eagle has her trapped in Neverland. Nancy Meyers would never. But Diane Keaton is wearing a white turtleneck, so it's saved. Check, but barely.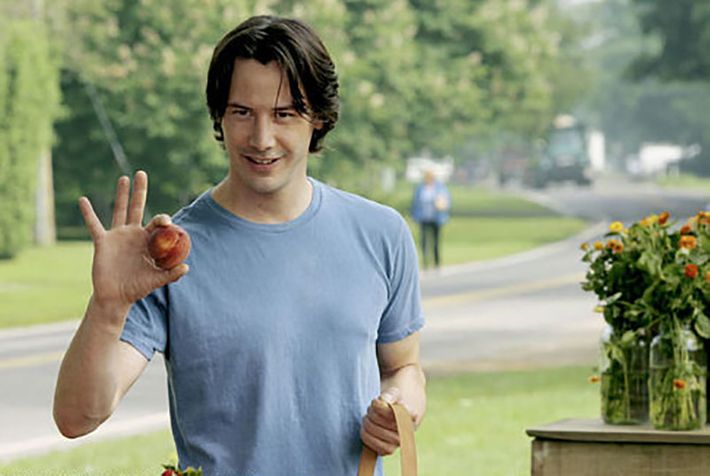 An Old Heartthrob We Forgot About, But Once They Show Up, It's like Hello, Zaddy: Hello, KEANU REEVES in Something's Gotta Give. Hello Steve Martin in It's Complicated. Book Club: HELLO ANDY GARCIA. Check. Checkity Check.
Sex Scenes That Are As Full of Mishaps As They Are Orgasms: Meyers's women fuck. In fact, Diane Keaton was so good at it that Jack Nicholson had a heart attack in Something's Gotta Give.
Book Club: Well, the very premise of this movie is a horny one, so there are plentiful boner jokes, and Candice Bergen knocks boots in the back of her Mercedes in Spanx. Check.
A Classy But Forgettable Soundtrack That Underscores Complicated Moments: Meyers usually likes jazz standards and Astrud Gilberto — things that are emotional and swell at the right moments, but are also unobtrusive and nuanced. For example, every Hans Zimmer song from The Holiday. Book Club: While this movie skews a bit more "soft rock" than "soft jazz," "More Than This" is basically the same thing as a nice, soft, romantic jazz standard. Check.
All-White Cast: Lol. The only chocolate in a Nancy Meyers movie is the chocolate someone eats in a bathtub, or that Meryl Streep puts in those damn chocolate croissants she bakes in It's Complicated. Book Club: Not a drop of melanin to be found, and no, Jane Fonda's tan doesn't count. Check!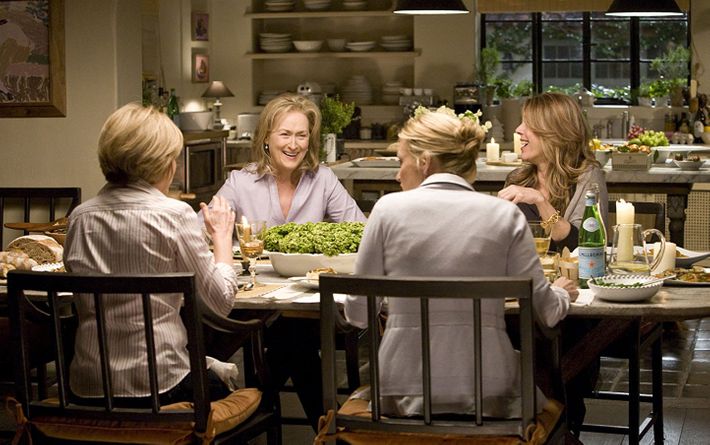 Conflict That Could Have Been Resolved With One Honest Comment instead of Four Lies, Three Misunderstandings, Two Therapy Sessions, and One Fight: The Parent Trap's issues really could have been solved with a mediation between lawyers and a fair custody agreement, and cell phones. The Holiday wouldn't have had a climactic crying scene if someone had just said, "I like you, let's make this work" before Cameron Diaz had to run down that lane. But the heart wants what it wants, which is: to complicate everything. Book Club: Mary Steenburgen, just tell your husband you want more sex; don't dose him with Viagra! Candice Bergen, don't delete your Bumble account! Check!
Despite fulfilling the checklist: What we have here is not authentic Meyers. Book Club is directed by Bill Holderman, but nails the aesthetic perfectly, making it the Costco version of a Nancy Meyers film. Before you dismiss it, a quick story: A friend recently told me how her father-in-law buys Kirkwood Signature bourbon instead of a more recognizable brand. "It's high quality!" he promises. And that's what I promise you: The Kirkland Signature Nancy Meyers movie, Book Club is still a perfect Nancy Meyers movie.