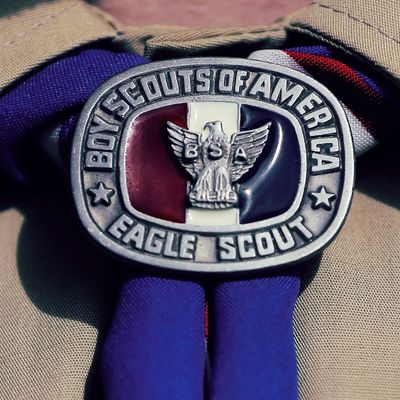 Boy Scout scarf.
Photo: Photo by Tom Pennington/Getty Images/2013 Getty Images
The Boy Scouts of America may not have the Thin Mints and Samoas, but they do get points for opening their doors to both boys and girls. For the past 108 years, their program for 11- to 17-year-olds has been known as the "Boy Scouts." But they're changing it to just "Scouts BSA" to signal that girls are welcome to join as well.
The gender-neutral term Cub Scouts will remain for the younger troops. So far, 3,000 young girls have joined Cub Scout troops in 170 clubs across America. Scouts BSA will start accepting female members next year. The Girl Scouts of America, according to AP, have no plans to allow boys to join their program. Instead, they're increasing and diversifying the types of merit badges Girl Scouts can earn, focusing on outdoor activities and STEM.
Chief executive of the Boy Scouts of America Mike Surbaugh told AP that they chose the name after an "incredibly fun" deliberation. Which begs the question: Which "incredibly fun" names were sacrificed in favor of "Scouts BSA"?