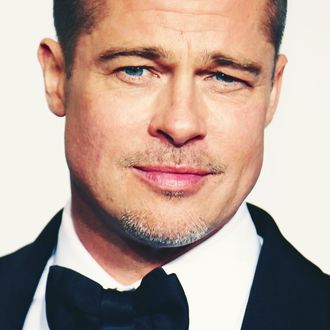 Brad Pitt.
Photo: Dan MacMedan/WireImage
Though he may now be an amateur sculpture-maker who's infatuated with an MIT professor, Brad Pitt was once a young lad in love with Gwyneth Paltrow, years before she ever promoted vaginal eggs and coffee enemas. According to an interview the Goop founder gave today on The Howard Stern Show, Pitt was so protective over her that after she told him that Harvey Weinstein had sexually harassed her, Pitt reportedly threatened to kill the disgraced Hollywood mogul.
Though Paltrow somehow "fucked up" her relationship with Pitt in 1997, the two were still hot and heavy when Paltrow landed the lead role in his adaption of Jane Austen's Emma and Weinstein allegedly assaulted her. According to her account in the New York Times, Weinstein invited her to his hotel suite and attempted to give her a massage in the bedroom.
So, when Pitt spotted Weinstein at a Broadway opening of Hamlet in 1995, he couldn't hold himself back.
"If you ever make her feel uncomfortable again, I'll kill you," Paltrow recalls Pitt saying after he did "the equivalent" of throwing Weinstein into a wall. After this incident, Weinstein reportedly "screamed at [her] for a long time," she told the Times.
But speaking of the encounter at Hamlet, Paltrow said, "It was so fantastic."
She continued: "What he did was he leveraged his fame and power to protect me at a time when I didn't have fame or power yet. He's the best."