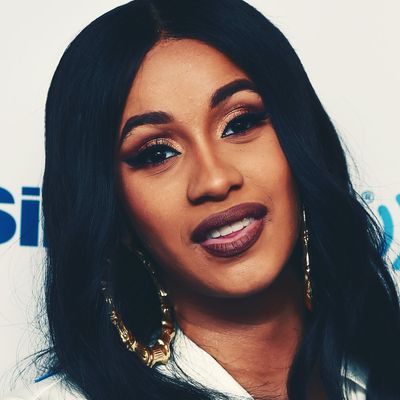 Cardi B.
Photo: Ilya S. Savenok/Getty Images
Though humanity has done nothing to deserve such a precious gift, the powers that be saw fit to bestow upon planet Earth the beautiful progeny of rapper and tax expert Cardi B. And though her baby with rapper Offset isn't expected until about the first week of July, we now know Cardi will be having a little girl, and we know how much the baby weighs!
Before stunning crowds at the Met Gala on Monday with her elaborately beaded Moschino gown, Cardi told the New York Times, "shorty weighs three-and-a-half pounds." "She do," the mother-to-be added. "She do weigh three-and-a-half pounds. That's pretty good for seven months, right?"
The next day, on SiriusXM's "The Howard Stern Show," Stern asked her outright whether she was having a boy or a girl, to which Cardi replied, "I'm having a girl."
Though this is the first time the "Bodak Yellow" rapper has officially confirmed the sex of her baby, back in April, her younger sister Hennessy Carolina accidentally spilled the beans in an Instagram post. In a caption under a picture of Cardi, the eager soon-to-be aunt initially wrote, "I'm going to be able to hold ur baby and give her all the kisses and hugs." She then changed the caption to make it gender neutral: "I'm going to be able to hold ur baby and give the baby all the kisses and hugs."
Congratulations to Cardi, Offset, Hennessy Carolina, the baby, and of course, Bernie Sanders.