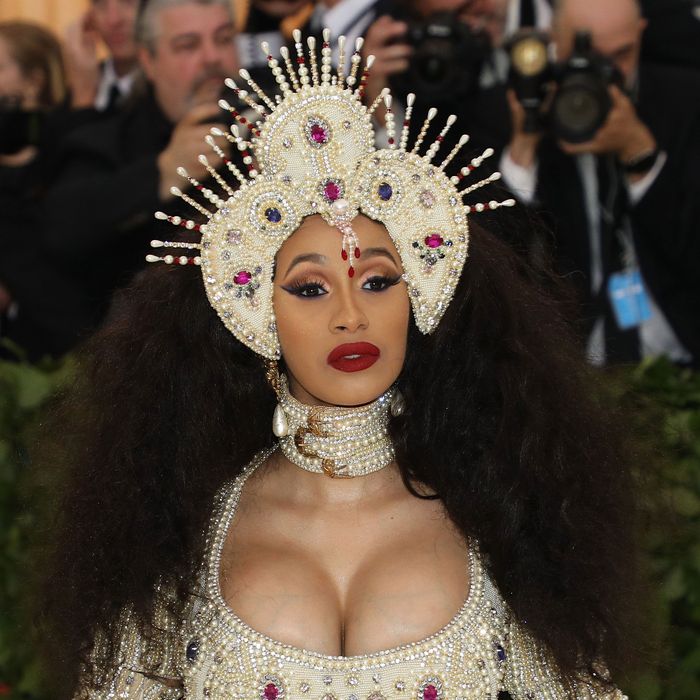 Cardi B.
Photo: Taylor Hill/Getty Images
Cardi B blessed the Met Gala and the world when she and her unborn child strode down the red carpet on Monday night in a beaded Moschino gown and elaborate headpiece. The night seemed to go well for Our Mother of Cardi — after the Gala, she headed to an after-party at the Mark Hotel, where she tweeted about getting a dog ("a huskey or a tiny dog,") and left at around 2 a.m. — but for one of her overeager fans, it ended with a trip to the hospital.
According to TMZ, the fan tried to demand an autograph from Cardi as she left the Mark. Though she declined, he persisted, saying, "I'm an autograph hound." Next, the video shows a figure who appears to be that same man, on the ground, being beaten by men who are reportedly members of Cardi's security team. At around 2:30 a.m., the man was taken in an ambulance to the hospital to be treated for neck and back pain.
The man allegedly hounded Paris Jackson earlier in the evening, telling her to "Stay black."
Maybe if he's lucky he can get Pope Rihanna to pardon him.