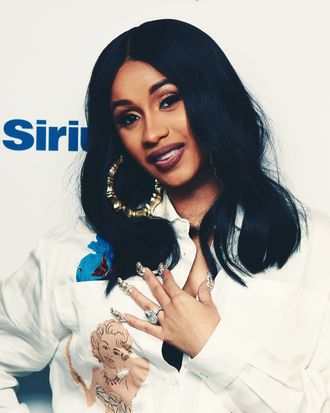 Cardi B.
Photo: Ilya S. Savenok/Getty Images
When Nicki Minaj and Cardi B had a puzzling interaction at this year's Met Gala, onlookers began to speculate about whether there was ongoing drama between the two rappers. On Wednesday's episode of Howard Stern's SiriusXM radio show, Cardi addressed the swirling rumors, saying that they simply discussed a "misunderstanding" without getting into the specifics.
"I never was feuding with anybody," she said. "There was a misunderstanding … I didn't wanna ever talk about it in public because I felt like we gonna see each other again and we will talk about it, and it's always like little issues."
The dispute that Cardi is most likely referencing stems from a song the two rappers did with Migos, which was originally a collaboration with just Quavo and Nicki. Later on, though, the rest of Migos and Cardi were given verses, which Nicki approved. However, just last month, Cardi and Migos were telling a different story.
Now, approximately a month since the aforementioned clash, Cardi is once again claiming that it was just a little issue that fans made into "a big thing."
"I spoke to her about it," Cardi said, referring to Minaj. "I spoke to her at the Met Gala about it, and it's just like, see? It's just something that had to be talked about because it was an issue."
Sources