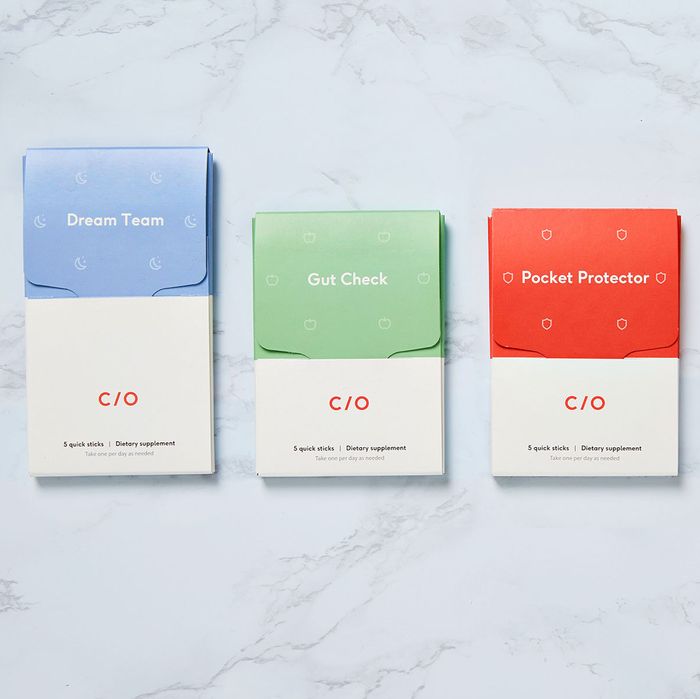 Photo: Courtesy of Care/of
Have you ever noticed that your skin can tend to feel dry or break out when you haven't been eating right or sleeping enough? Vitamin company Care/Of just released five new products that they say can contribute to you feeling like your most beautiful, well-rested self.
Care/Of typically makes personalized vitamin packs in response to a questionnaire that customers fill out based on their needs, but their new products can be used à la carte, or in addition to the personalized packs. The new Quick Sticks are vitamin powder packs that work to add a boost to your immune system and overall health. There are five packs, each targeting a different aspect of your health.
Pocket Protector and Gut Check are probiotic blends that taste like berries and are supposed to kick your immune and digestive system into gear. Chill Factor combines chamomile, lemon balm, and passion flower extracts to help you simmer down, regulating the body's response to stress. You could follow it up with a relaxing sheet mask and the Dream Team pack, which uses melatonin, a hormone that regulates sleep, to help get your schedule back on track. And in the morning, give yourself a jolt of energy with the caffeine, vitamin B12, and citicoline in Extra Batteries.
You don't need water to take them, but it would definitely keep you from feeling like you're eating Pixy Stix. Of course, a vitamin pack won't solve all your health problems, but it can be a nice reminder to be healthier throughout the day, or at least until tomorrow.
The Quick Sticks are available now from Care/Of and are $5 for a pack of five.
If you buy something through our links, New York may earn an affiliate commission.