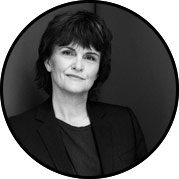 Yesterday, several hours before Karl Lagerfeld's latest collection for Chanel, the company's fashion archivist, Odile Premel, took a few American editors on a tour of the company's archive in a state-of-the-art facility on the outskirts of Paris.
The vast majority of the rolling closets contain items that Lagerfeld has designed for the house over the past 35 years. Roughly 25 looks, plus accessories, are selected from each collection — haute couture, ready-to-wear, and so on — and deposited in the archive, the main consideration being that they reflect a special technique, a theme, or perhaps have a narrative connection to Gabrielle "Coco" Chanel. As Premel said, "We're looking for those archival stories to tell."
Only two long closets are dedicated to pieces designed by Chanel herself, a not-surprising imbalance. Chanel, like a lot of the 20th-century couturiers, did not generally keep her original samples. So the company has had to acquire pieces at auctions. Still, it's pretty impressive what they have.
We saw a sailor blouse in pale beige silk jersey from 1916 (the oldest piece in the archive), a cream feathered evening cape from the '20s, a brown tweed cardigan suit from the mid-'50s that was Chanel's own (quite petite), and the very first bottles of Chanel No. 5. We also saw extraordinary pieces of Chanel's early jewelry — strands of pearls, a killer rock crystal necklace — and photographic artifacts of her early, glamorous life.
But what struck me most about this tour of CocoWorld was how seamlessly the PR staff and Premel had tied it to the extravaganza we were about to see that evening at the Grand Palais: Lagerfeld's 2019 cruise show, complete with a 300-foot replica of an ocean liner, named after Chanel's former summer retreat in the South of France, "La Pausa." The estate, which she built around 1929 and sold in 1953 to an American family, was recently acquired by the Chanel corporation, which is owned by the Wertheimer family.
I don't say any of this cynically. Quite the contrary: I was glad to see the many ways in which Chanel returned again and again to certain themes, like Aubazine, the orphanage in France where she spent part of her childhood, and which inspired the architecture of La Pausa, as well as some of her more austere dresses. Lagerfeld has made intelligent, artful use of those references, and in a sense has kept them alive in his Chanel collections — along with a zillion other Lagerfeld ideas and contemporary jokes.
Yet it's also true that the brand is bigger than Lagerfeld, despite his enormous contribution, and will one day sail on without him. That make-believe ship La Pausa, perched cinematically on its moonlit water like the Titanic, was really less a backdrop for a jaunty collection of minis and pearl-studded capris than a reminder of the weight of brand Chanel.
Perhaps unintentionally, this show also added to recent speculation that some sort of creative transition is on the horizon. Lagerfeld took his bow last night with his longtime studio director, Virginie Viard.
Certainly he has always acknowledged Viard. The Chanel PR staff and security guys were also limiting access to Lagerfeld during a post-show party on the cruise ship ("No interviews!"). That may have been because of a recent interview in a French magazine in which Lagerfeld sounded off about the #MeToo movement and said he'd rather kill himself than be stuck on a deserted island with relative design newcomers Virgil Abloh, Simon Porte Jacquemus, or Jonathan Anderson. I noticed that Abloh and Jacquemus were at the party. And Lagerfeld himself seemed in pretty fine fettle.
As for the clothes, they were full-on French cruisewear, including some adorable minidresses and A-line suits in pink and cream tweed, nautical striped pants, candy-striped knits, marine-blue prints, and some cotton dresses and tops with smocking that looked fresh, though they may have sprung from a deep corner of the archive.
So the good ship sails on. The models all had on white stockings and modern Mary Janes for the ride.