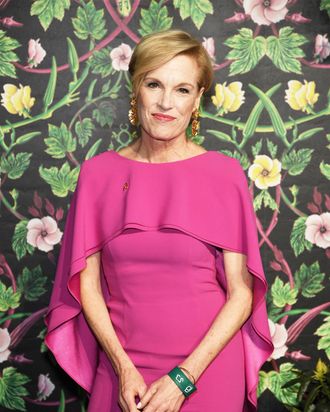 Cecile Richards.
Photo: Dimitrios Kambouris/Getty Images
Cecile Richards took a well-deserved victory lap at the Planned Parenthood gala last night, surrounded by celebrities and friends like Laverne Cox, Uma Thurman, and Chlöe Sevigny at Spring Studios in New York. On Monday, after 12 years with Planned Parenthood, Richards left her position as president and CEO. At the gala she was honored with the Woman of Valor Award, surrounded by guests who wore hot pink to show their support.
"Planned Parenthood believed in me when I didn't believe in myself," Richards said in her acceptance speech. "That is really the story of Planned Parenthood, and we do that for millions of people in this country every single year."
Richards fought to ensure people have access to reproductive health care during a difficult tenure. She testified in front of Congress numerous times to protect Planned Parenthood's federal funding and faced personal scrutiny that Democrats called hypocritical and misogynistic. "I feel the organization is stronger now than it's ever been," she told the Cut at the gala, explaining her decision to step down. "I felt it was possible to make space for someone else to come in and lead."
So what were her highest and lowest points during a dozen years of hard work? "I would say [the best was] the day that President Obama called me to say that we were going to get birth control for all women and insurance plans," she said. "Now 62 million women do at no cost. That took decades. Fifty-some odd years ago birth control wasn't even legal, and now people are getting it at no cost. That's the kind of success that takes years and years and years of people fighting."
"The hardest days are when we have people attacking our patients, our doctors and our clinics," she continued. "Even here in New York City."
Looking ahead, Richards said she's focusing on the midterm elections. As for the gubernatorial election on every New Yorker's mind, Richards had no comment on whether she'll support Cynthia Nixon or incumbent Andrew Cuomo. "I literally haven't been in New York," she said (she's been busy on her book tour). "I'm just glad to see more people running who are in support of Planned Parenthood."
She left the interview to receive her award. Jessica Williams hosted the after-party, also at Spring Studios, with QuestLove as the DJ. The night raised over $200,000 for Planned Parenthood with special auction items, including an Audi custom-painted by artist Marilyn Minter and a bench inscribed with a quote from artist Jenny Holzer.