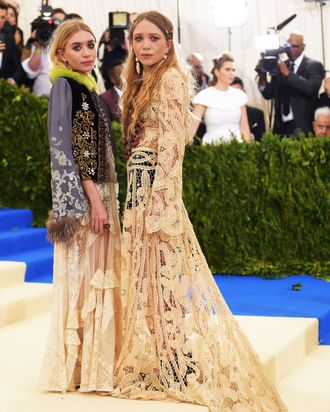 Mary-Kate Olsen and Ashley Olsen at the 2017 Met Gala.
Photo: J. Kempin/Getty Images
The Met Gala never fails to be an incredibly rich source of drama: There are celebrity feuds, drunk ramblings, and transgressions by all the rebellious cool kids. But according to "Page Six," while outsiders laugh and gasp and roll their eyes at every dramatic incident, the actual people at the event are miserable.
When Amy Schumer bravely dissed the Met Gala in 2016, saying that everyone there is "dressed up like a bunch of fucking assholes," the world stopped — how dare a celeb speak out against Met Gala co-chair Anna Wintour! But it turns out, Schumer is not alone in her aversion.
One Hollywood handler told "Page Six" that they have four A-list clients who've declined invites to this year's event, themed "Heavenly Bodies: Fashion and the Catholic Imagination."
"They want to take a year or two off," the handler said. "It's the same thing. It's long, drawn out and boring."
A Hollywood publicist echoed the handler's sentiments, describing the night as "very tedious." They continued: "It's very much work for them. It's very structured, there's a lot of pressure to network, and [it's] not that much of an enjoyable evening."
And a gala regular told "Page Six" that "the overall ambience isn't super friendly," and that walking up to the Gala is nothing like "walking into a party where you know everyone and everyone's happy to see you."
However, this Gala stance is clearly not universal — some celebrities do genuinely love the night. I mean, did you see Celine Dion at the Gala in 2017?