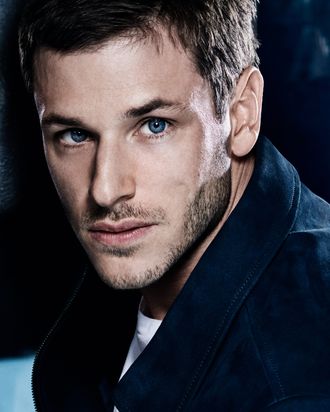 Photo: Courtesy of Chanel
Most fragrance campaigns tend to have the same premise, of an attractive model or actor who sets their sights on an equally attractive someone. Chanel Bleu's newest campaign is a little different, marking an impressive journey for the Bleu man, who was a bit of a playboy when the fragrance first came out eight years ago.
The Chanel Bleu saga, which began with two previous short films featuring rock and roll tunes that called on men to "be unexpected," continues this month with French actor Gaspard Ulliel. Ulliel reprises his role as the independent man who answers only to himself, but this time, he's matured, and leaves parties to be alone and meditate (wellness!). "I like the way this man has evolved, it's almost as if we grew at the same pace," Ulliel said in a statement. "He is constantly looking to break with convention and the diktats of society. He scoffs at prejudices and is happy with who he is, but his approach is more mental than physical now." Along with his attitude, his cologne choice has evolved, too.
The new Chanel Bleu Parfum comes in a deep navy bottle with gold lettering and is a more intense take on its Chanel Bleu Eau de Toilette and Eau de Parfum counterparts, which have silver lettering. The newest one has notes of fresh grapefruit, lavender, geranium, cedar, and a creamy New Caledonian sandalwood, which Chanel calls a superior ingredient that inspired the bottle's bold new look.
Watch the Chanel Bleu Parfum campaign video, which shows Ulliel swimming and wandering the city lost in thought, as directed by Steve McQueen here:
Chanel Bleu Parfum is available now from Sephora and Chanel.
If you buy something through our links, New York may earn an affiliate commission.