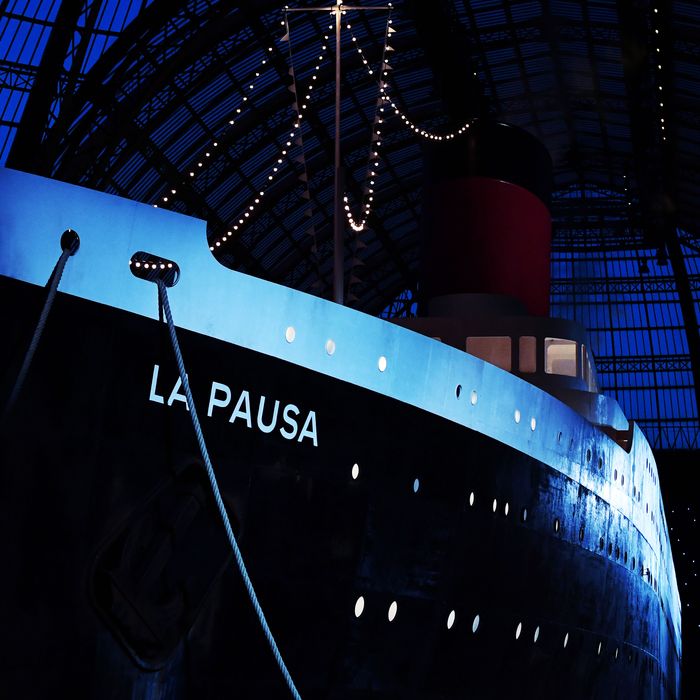 La Pausa
.
Photo: Pascal Le Segretain/Getty Images/2018 Getty Images
"Cruise" is an actual fashion season that normally has nothing to do with boats — it's also known as "resort". However, this year Chanel decided to take it literally. The brand staged their cruise 2019 runway on a giant ship set in the middle of the Grand Palais in Paris. While Chanel and designer Karl Lagerfeld are no strangers to lavish sets (remember the spaceship? The waterfall? The supermarket?) this one may have been the biggest yet.
And yes, the ship had a name and her name was La Pausa, after Coco Chanel's villa in Roquebrune-Cap-Martin, France. Chanel built the villa in 1930s and owned it until 1953. That timeline may help explain the '40s-inspired flair, complete with white tights and flat mary jane shoes. There were lots of red, white, and blue maritime stripes, knitted sweaters, and ripped denim. Because we're in France, each model donned a beret or a straw boater hat as well.
The final look was a white sequined dress with a subtle wave pattern on the bottom (also paired with a beret). After the models and Lagerfeld took their victory lap, the set opened to an after-party, attended by Margot Robbie and Kristen Stewart. If you can't make it to a yacht this summer, try out some white tights and ripped denim instead. They're Chanel-approved.