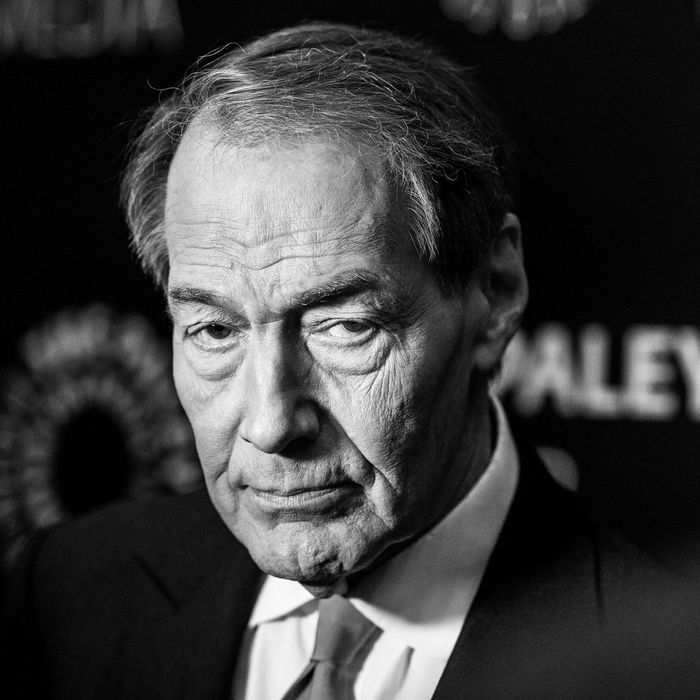 Charlie Rose.
Photo: Roy Rochlin/Getty Images
In a Washington Post report last fall, eight women accused veteran TV journalist Charlie Rose of sexual harassment — adding his name to an ever-growing list of powerful men accused of abuse.
On Thursday morning, the Post published its long-anticipated follow-up exposé on the Rose scandal — featuring accusations of forcible kissing, unwanted groping, and inappropriate sexual comments from an incredible 27 women. Reporters Amy Brittain and Irin Carmon also delved into just how widespread Rose's behavior was, who exactly at CBS News was made aware of Rose's alleged behavior, and how the allegations were handled internally. The longtime anchor denied the allegations in a one-line email to the Post: "Your story is unfair and inaccurate."
Here, some of the biggest bombshells from the report.
More than two dozen women have come forward with additional allegations against Charlie Rose dating back to 1976. According to the report, this number includes 14 women who worked with him at CBS, and 13 who worked with him elsewhere. His alleged harassment was reported to managers as early as 1986 — and as recently as 2017, according to the Post.
At least three managers at CBS had allegedly been warned about Rose's behavior. The report found that, over the course of 30 years, three managers had been told that Rose was being abusive toward female employees — including CBS News manager in 1986, a CBS News manager shortly after Rose joined CBS This Morning in 2011, and a CBS News manager in 2017. Former CBS News chairman Jeff Fager told the Post he was not aware of the allegations, and likewise, current CBS News president David Rhodes told the Post in March, "I was not aware of harassment by Charlie Rose at CBS."
Women at CBS warned others to stay away from Rose. The report shows that some women at CBS allegedly had a whisper network of their own about Rose:
When Susan MacArthur was interviewing in the late 1990s for a job to be Rose's assistant, she said, a CBS News executive told her to "steer clear" because of the host's history of "questionable behavior."




"She looked me dead in the eyes and said, 'You are going to be working alone with this man and being alone with this man in his hotel, and you need to think really hard about whether you want to do this,'" MacArthur said, declining to name the executive. MacArthur heeded the advice and stopped returning Rose's calls.
Rose is accused of groping women's breasts, answering the door to his home naked (holding a towel), and exposing his penis — and sometimes, the allegations were brought to supervisors. The report includes disturbing allegations of sexual harassment and abuse toward women. In 2003, he allegedly told then-20-year-old intern Corrina Collins, who worked on his PBS show, during a business trip for 60 Minutes (that he brought her along for), "I want you to ride me." Collins told the Post that she told Yvette Vega, an executive producer of the PBS show, about the behavior, to which Vega allegedly responded that Rose was harmless.
He allegedly forcibly kissed a staffer at a holiday party at the Spotted Pig. Rose hosted a holiday party in 2011 for PBS and CBS staffers at the New York City hot spot, during which he forcibly kissed a CBS This Morning employee. The woman told former CBS This Morning executive producer Chris Licht the next day, but asked him not to share the allegations with the company's HR department. Licht instead spoke to Rose about his conduct, which CBS News says was "within the scope of CBS policy at the time."
A lawsuit against Rose and CBS will be filed in the next few days. The Post reports that Ken Goldberg, an attorney representing three women, sent a letter to Rose and CBS in February alleging that Rose subjected them to "repeated physical and verbal harassment," and that "management, numerous broadcasters and studio staff witnessed Mr. Rose's unlawful conduct and complaints were made." Goldberg added that both Rose's separate company and CBS "failed and refused to take any remedial action and that conduct continued unabated."
Read the full report here.