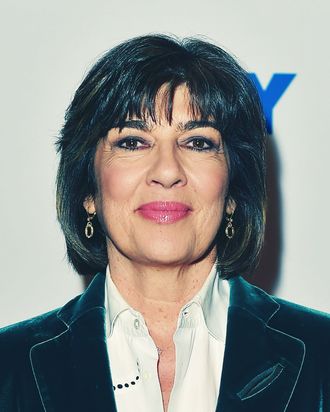 Christiane Amanpour.
Photo: Theo Wargo/Getty Images
Christiane Amanpour will officially take over disgraced TV journalist Charlie Rose's coveted one-hour nighttime slot on PBS, during which she'll interview global leaders and discuss America's place in today's world.
Ever since early December 2017, when PBS ended Rose's eponymous hour-long program following numerous sexual-misconduct allegations against him, the network started airing CNN International's half-hour program Amanpour in the interim. But in mid-July, according to The Hollywood Reporter, Amanpour will finally launch her new hour-long public affairs program called Amanpour & Company.
Along with Amanpour, who will be primarily hosting from her home in London, the show will feature four regular contributors: Michel Martin, weekend host of NPR's "All Things Considered"; Walter Isaacson, CEO of the Aspen Institute; Alicia Menendez, host of the Latina to Latina podcast and contributing editor at Bustle; and Hari Sreenivasan, anchor of PBS NewsHour Weekend.
"I'm delighted to expand my role at PBS from interim to permanent along with this remarkable diversity of voices and views," Amanpour told CNN. "Never has the time for exploring our world and America's place in it been so urgent."
Meanwhile, Rose reportedly has plans to launch a show where he'll interview other powerful men brought down by allegations in the era of #MeToo. However, these whisperings predate the Washington Post's long-anticipated follow-up exposé on the Rose scandal that published last week, in which 27 additional women came forward with accusations about Rose's inappropriate workplace behavior. The day after this report came out, three women sued Rose and CBS.