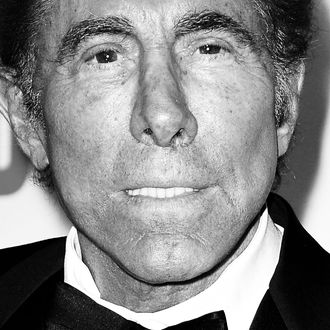 Former casino mogul and RNC's finance chairman Steve Wynn.
Photo: Jerod Harris/Getty Images
Please join me in playing one hundred of the world's smallest violins for Steve Wynn, the former casino mogul and RNC finance chairman accused of decades of sexual misconduct, who is reportedly incensed at Christie's for damaging his precious Picasso painting.
According to "Page Six," Wynn was storing Picasso's 1943 self-portrait Le Marin at Christie's ahead of an upcoming auction, where he planned to sell it for $100 million. But at some fateful time, presumably not long ago, a metal extension pole for a wall paint roller apparently fell and created a "significant hole" in the canvas.
Wynn, whose net worth is approximately $3.4 billion, was pissed — not only that the painting was damaged, but that Christie's assigned it a value much lower than he saw fit.
"To say that Mr. Wynn is upset is an extreme understatement," Wynn's adviser Michael Kosnitzky told "Page Six." "There may be a debate among art and insurance experts for some time, but Mr. Wynn's new art dealership expects to be fully compensated for the cost and time to repair the painting, and the diminution in its value, following this flagrant act of gross negligence by Christie's staff." (Christie's maintains that the Picasso was "accidentally damaged.")
Now that we're on the topic of "gross negligence," let us recall the time in 2006 when Wynn put his elbow through his other Picasso, the 1932 portrait Le Rêve while showing it off to Nora Ephron and Barbara Walters.