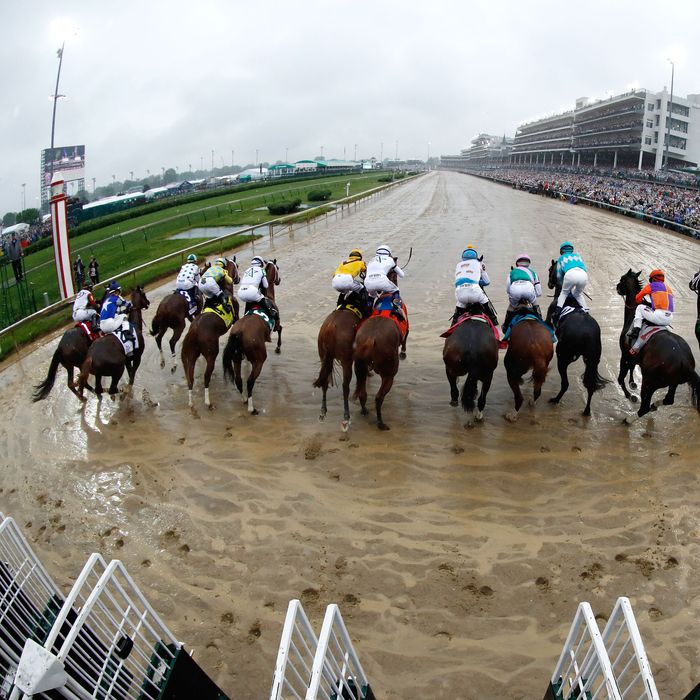 Photo: Andy Lyons/Getty Images
The Kentucky Derby: What is it?
Well, that's a good question. It's a horse race. It's held on the first Saturday of May in Louisville, Kentucky, and it's exclusively for three-year-old horses. The age limit is, from what I can tell, meaningless. "The predominance of 3-year-olds dates back to the early days of organized English racing," says this article from Slate about it. "In keeping with tradition, then, the American races adopted the age restriction, too." All right, fine. I accept the Kentucky Derby on its own terms. What else? Women wear big, old-timey hats for it and everybody drinks mint juleps, even though all of that seems fraught. The race is dubbed "The Fastest Two Minutes in Sports," which is also what Samantha would say if she slept with a jockey and didn't have a good time.
(Samantha from Sex and the City.)
Speaking of, do you want to guess how much money 2015 Triple Crown (Kentucky Derby, Preakness Stakes, and Belmont Stakes) winner American Pharoah's greedy owners make per year from him having sex?
Fuck!
Give American Pharoah a break!
Now that we know all about the Kentucky Derby, we can dig into Saturday's race. Okay, here we go.
If it's raining, should they maybe think about postponing the Kentucky Derby? That was the question running through many horse minds on the day of the 144th Kentucky Derby. It was raining. All the sweet little three-year-old horses had wet, muddy little hooves. They were all wonderful and they all deserved to win — I could tell that right away. To start, all of the horses got into their horse huts to await the starting pistol. One of them had a mask on his face — I don't know why; maybe to make the other horses uncomfortable. It was immediately obvious, once the pistol rang out and the horses were released from their areas, that horse racing is crazy. Wildly anachronistic. Like … what … the hell? Even beyond the abuse, it's wild that it's still happening. In 2018? Athletes compete with clothes on now, you'd think they'd also compete not on horses. Maybe you disagree.
Anyway, where were we? Oh, yes, the beginning. Justify and Promises Fulfilled (these are horse names) were in the lead until about halfway, when Justify stayed in the lead and Promises Fulfilled fell out of the lead, fulfilling his — fingers crossed — promise of not winning. Then this other guy called Bolt d'Oro was near the top of the pack, but then he wasn't. Then a guy called Good Magic was. It was terrifying every time the horses went around a bend because it seemed like the horses were going to fall over, but none of them ever did. Thank god! After about two minutes, Justify, who was basically never not winning, won. It really was quite fast.
Something inspirational about Justify is that he is the first horse since 1882 to win the Kentucky Derby without competing as a two-year-old. Maybe you can carry that with you. If you can dream it, you can do it. Start today, why not? I recently saw an ad that featured a ballerina en pointe who began when she was 60, though I forget what the ad was for. The world is full of possibilities. It's never too late to be the horse that wins the Kentucky Derby.
(If you're three years old.)