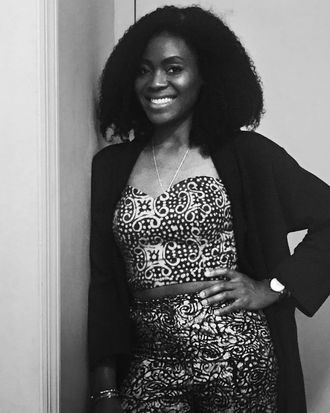 Lolade Siyonbola.
Photo: Facebook
Like many students in the midst of finals, Lolade Siyonbola, a 34-year-old graduate student in the African Studies department at Yale, decided to pull an all-nighter on Tuesday evening. After lying down for a brief nap in a common room between her heap of overdue papers, she woke up at 1:30 a.m. to the sound of woman saying she was going to call the police. "You're not supposed to be sleeping here," said the woman, before engaging in what has now become a familiar tale of law enforcement use in the United States: calling the cops on a black person who has committed no crime.
What followed was a tense, 17-minute encounter with police recorded by Siyonbola, in which she had to prove in several different ways that she was indeed a student at the ivy-league university. She posted two separate videos on Facebook, which have since gone viral with over one million views and 10,000 shares. Throughout the longer video, officers are repeatedly heard justifying their involvement to Siyonbola, claiming their responsibility was to ensure that she "belonged there," and that they were determined to "get to the bottom of this."
In a climate rife with incidents that have sparked national outrage over the racial profiling of black people in commercial or communal areas — a Starbucks, a Waffle House, a golf course, an Airbnb, and now a university dorm — the episode has fueled a new trending term, the hashtag #whileblack. It exemplifies the various ways institutionalized racism continues to affect black people in everyday situations.
Siyonbola led the officers to her room opened her door, and when asked for further evidence with proof of ID, she pushed back. "We determine who is allowed to be here or who's not allowed to be here," an officer told her, "regardless of whether you feel you're allowed to be here or not." Siyonbola replied, "I hope that makes you feel powerful." Watch the videos below.