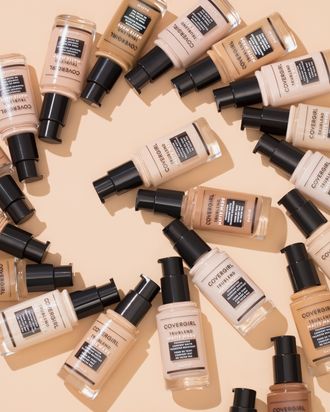 Fenty Beauty is the gift that keeps giving. After launching last year with 40 foundation shades that also take undertones into account, Rihanna has inspired brands to up their game and create more inclusive beauty products.
Since Fenty Beauty's launch, Maybelline and ColourPop doubled their concealer ranges, Make Up For Ever tried to remind everyone they too have an inclusive foundation range, and Marc Jacobs released the most flattering foundation ads featuring a truly diverse set of models. The latest (unofficial — although Rihanna herself was once a spokesmodel for the brand) Fenty-inspired launch is CoverGirl's TrueBlend Matte Made Foundation collection.
The new liquid foundations come in 40 shades that are evenly spread across the light, medium, tan, and deep categories. Twenty-six of the shades were also added to some of CoverGirl's existing TrueBlend products. The brand purports that the new foundations, which have a minimalist label, don't crack, cake, or settle into fine lines, and are transfer-proof.
In addition to the foundation, the brand is also launching TrueBlend It's Lit Concealer. The concealers are formulated with pearl pigments that allegedly brighten skin tone and add a touch of radiance to matte makeup. There are also four new smoothing, neutralizing, pore-minimizing, and illuminating primers as well as highlighter and contour kits.
The Matte Made Foundation, concealers, primers, highlighter, and contour kits will all be available soon and, at drugstore prices, are welcome additions to cosmetic aisles.
If you buy something through our links, New York may earn an affiliate commission.