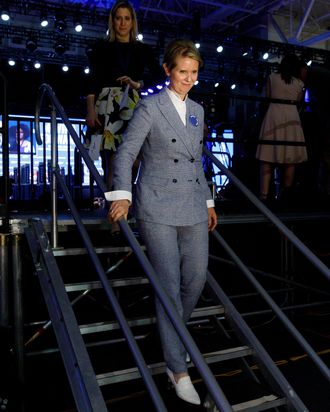 Cynthia Nixon.
Photo: Justin Lane/EPA-EFE/REX/Shutterstock
Gubernatorial candidate Cynthia Nixon didn't have numbers on her side at the Democratic Convention in Hempstead, New York, on Wednesday. Governor Andrew Cuomo secured his party's nomination for a third term with more than 95 percent of the vote. But Nixon sure looked like a winner, challenging Cuomo's suit game if nothing else.
Nixon's perfectly tailored double-breasted blue suit, which she wore with pointy white loafers, wasn't the usual Albany uniform — or the look of anyone who wants to fit the status quo. She donned the costume of the opposition and made it her own.
"I'm here to say this is my party, too, I'm not afraid and I'm here," Nixon told the Daily News while at the convention, her white sleeves literally rolled up. "You can't shut me out." Her next step: To gather the thousands of signatures necessary for a place on the primary ballot.