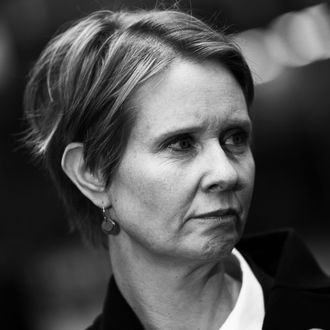 Cynthia Nixon.
Photo: Drew Angerer/Getty Images
Cynthia Nixon is a master at getting under Governor Andrew Cuomo's skin, and at a recent address in Albany, the gubernatorial candidate made a callback to an anti-gay slogan that will surely upset the "big tough Italian guy."
At the annual Legislative Correspondents Association dinner, Nixon declared, "Vote for the homo, not for the Cuomo," which is an exceptionally personal dig at the governor. In 1977, when Ed Koch and Cuomo's father, Mario, were running for mayor of New York, homophobic posters appeared on city streets that read, "Vote for Cuomo, Not the Homo." While Andrew, who was involved in his father's mayoral campaign, denied that he had anything to do with the posters, Koch blamed the Cuomos.
"Andrew Cuomo is known for dirty politics but I have to give credit where it's due," Nixon told the crowd. "His history of cutthroat campaigns, helped inspire my campaign's new slogan."
She later referenced the insult that one-time mayoral candidate Christine Quinn lobbed at her in late March, when Quinn called Nixon an "unqualified lesbian." Referring to Cuomo, she said, "His performance as a progressive hasn't been very convincing of late — you might say he is an unqualified thespian."
Will Nixon's latest jab be the one that finally compels Cuomo to accept her debate request?