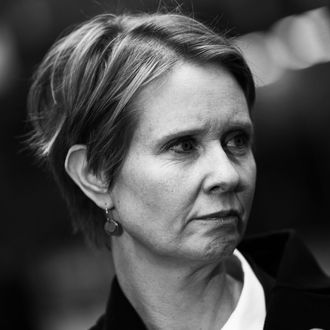 Cynthia Nixon.
Photo: Drew Angerer/Getty Images
As the gap between Governor Andrew Cuomo and Cynthia Nixon continues to shrink, she's released a video challenging him to a one-on-one televised debate.
Nixon shares that she's already accepted WABC's offer to host the debate, before throwing it back to her competitor. "So what's it going to be, Andrew? Just you and me on a stage?" she asks. "One-on-one. No distractions. Nowhere to hide. Your move."
Cuomo has refused to participate in televised debates in past, including one against primary challenger (and current Nixon campaign treasurer) Zephyr Teachout in 2014. He's also belittled Nixon's run as he's simultaneously being forced further to the left by her proposed policies.
And everything else aside, watching a seasoned activist who also happens to have an extensive acting background go up against a famously hot-tempered politician would make for great television. The only thing that could possibly make it better? If they filmed it on a subway car.