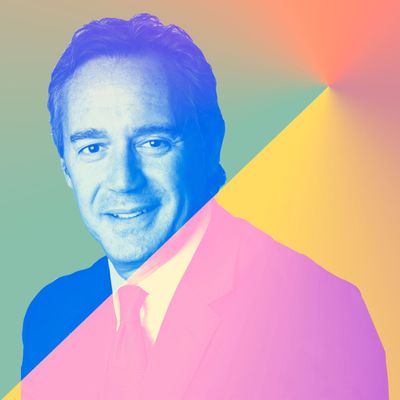 Photo-Illustration: Stevie Remsberg
When Daniel Kaner was a young boy growing up in Minnesota, he never imagined that his older sister's friend would be his gateway into the beauty business — and also his future wife.
The Kaner kids were friends with the Kashuk kids, but Sonia Kashuk (of makeup and Target product line fame) was a few years older than Daniel. Still, he'd noticed her. "She was a unicorn, always designing clothing and windows," the co-founder and president of Oribe remembers. "I knew she'd moved to New York, so I'd look her up any time I went there. Years passed before we ran into each other again, in Saint Paul. That was the early '90s. We've been together ever since."
It was Kashuk who introduced Kaner to Aveda's founder, Horst Rechelbacher. Horst had hired her to consult, and not long after, he brought Kaner in, first as a consultant, then eventually full-time to oversee Aveda's New York distribution.
Kaner left Aveda to join Bumble and Bumble, where he worked with founder and hairstylist Michael Gordon. After Estée Lauder bought the brand, Kaner stayed on for another eight years; then he and partner Tev Finger moved on when they saw an opportunity with hairstylist Oribe Canales (yes — he who has a whole section in his bio called "The J.Lo Years"), who wanted to build a hair-care line.
"At the time, almost all beauty categories had good, better, and best, but Tev and I felt that hair care was lacking that 'best' level. We created something that was luxury, quality, and boutique."
In the nine years since the brand launched, Kaner, Canales, and Finger (and, more recently, global ambassador James Pecis) have catapulted the luxury brand to its very secure spot on the must-have list among consumers and professionals who rely on its best sellers like Dry Texturizing Spray or Airbrush Root Touch-Up. Personally, if I'm running low on my Airbrush supply, I break out in a sweat.
Kaner took a break from his busy schedule to speak with the Cut about his favorite wine, his weakness for fast cars, and the podcast that almost made him cry.
What do you cleanse with? Aesop Geranium Leaf Body Cleanser, Bigelow Premium Shave Cream.
What scent do you wear? Ambre Sultan by Serge Lutens or Burning Barbershop by D.S. & Durga.
Who cuts your hair? Annie Rush at Marie Robinson Salon.
Watch of choice: Patek Philippe.
Sneakers of choice: Y-3 Yohgi Yamamoto or Pierre Hardy.
What do you carry your stuff around in? A custom man bag by L'Atelier Renard, which was created before manbags were in fashion.
Favorite podcast: I've just started listening to them, but I love the TED Radio Hour. I've been studying up on leadership a lot, and the one called "Disruptive Leadership" nearly brought me to tears.
Phrase or word you're known for saying? "Try this!" (I'm a food pusher), "I'm open to the universe," and "internal chatter." In the marketing department, they collect Danielisms after every meeting.
First name you wish you had as a kid? Blaise (pronounced "Blaze").
What should Pantone's color of 2018 have been? I would choose lapis blue, a hopeful, confident color that represents peace, kindness, and intelligence.
What is a lost art?  Intelligent conversation.
What is always on your desk? Strathmore sketch pad, colored pencils, Pentel Tradio Pulaman Disposable Fountain Pen, rubber cement. I'm a scrapbooker and I combine my sketches, magazine clippings, phrases, quotes, and glue them into the books.
Splurge? 1989 Mercedes-Benz 560SL and 1973 Corvette Stingray.
Weakness? Casamigos Tequila.
What or who makes you laugh? My beloved dog, Jezebel. She's just one of the true joys in my life.
What do you wish you had invented? Penicillin.
Favorite meal and where? A New York steak, French fries, and a good California Cabernet at the Old Homestead in Manhattan.
What product in your domain is misunderstood and should be a best seller? Oribe Rock Hard Gel. It doesn't impart that Gordon Gekko Wall Street look for a man. It's an amazing volumizing product, has memory, but once it sets, you can still run your fingers through your hair and it looks natural.
What do you see as Oribe's biggest challenge going forward? In the early days, there was an independent spirit that surrounded the line. I want us to maintain that quirky spirit as we continue to spiral up, and to make sure we continue to look at our brand through the lens of craftsmen.
What do you foresee as the top beauty trends in 2018? Kindness, compassion, and understanding — in a bottle. People are interested in blending truly personal care; interested in what is healthy and performs well. We are getting closer to blending the two. Customers like renewal rather than restoration.
If you won the lottery tomorrow, name the first five things you would do, after giving most of it to charity, of course …Pay taxes, withhold a percentage for myself and my family, and set up a foundation that will focus on the humanities and help America and the world find their best self.