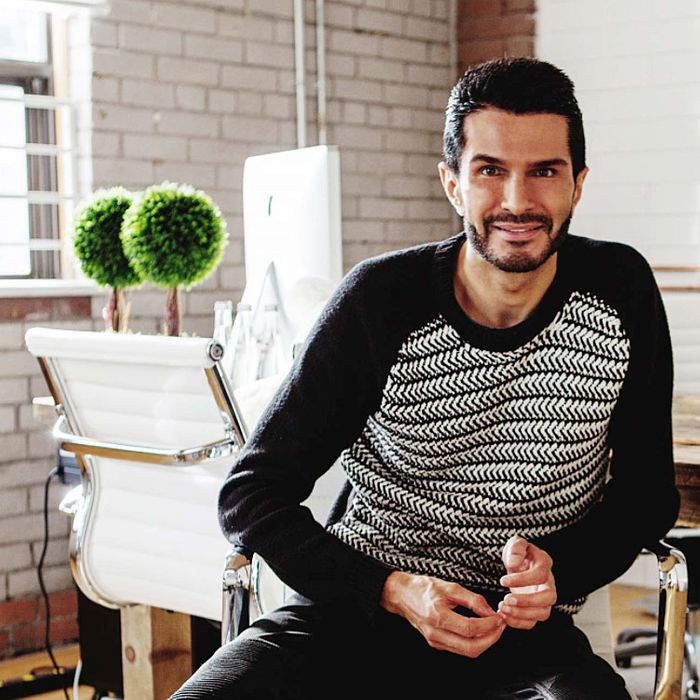 Brandon Truaxe.
Photo: Courtesy of Deciem
Deciem CEO Brandon Truaxe, owner of the parent company to the much-loved affordable skin-care brand the Ordinary, wrote a new, open letter that continues to affirm that the company is not normal. Long priding itself as the "Abnormal" beauty company, his letter posted on the company site with the URL "Play ball" is a missive, cc'ing top-level media and beauty executives at Estée Lauder, Sephora, Ulta, and other retailers.
In the same unguarded tone as his previous public communications, the revealing, 3,000-word letter explains some of the behind-the-scenes drama of the past few weeks, told from his point of view. He gives his version of what happened with his 911 call that went viral on Instagram, accuses several people of plotting against him, charges people with betraying his trust, and more. The letter is full of scare quotes, long sentences, parentheticals, personal call-outs, and all caps for emphasis. Here are the biggest takeaways from the letter, which he signed "Founder and a Benevolent Parent."
1. A shareholder may have tried to defraud Deciem.
According to Truaxe, there's a open inquiry into "financial wrongdoings/crimes of one and/or more of DECIEM's shareholders." After providing "significant material information," he says he was concerned for his safety, leading to the distress and 911 call posted on Instagram a few weeks ago.
He explains that he told Deciem's PR Manager, to "witness" the matter. Amidst some confusion, she thought Truaxe was being arrested, and reported it to the Deciem team.
I called Dionne, our UK PR Manager, who has been with us in the UK since the start of DECIEM, to come to Ham Yard Hotel to "witness" the "matter" (so that she would "understand" that there was no real arrest and that she and everyone at DECIEM would simply be calm). Dionne SEVERELY misunderstood why I had called the police and made the assumption that I was being arrested for wrongdoing and REPORTED!!! this assumption to our team and then indirectly to our shareholders in the USA and Canada…
2. His colleagues tried to send Truaxe to a "private mental hospital."
He alleges that shareholders tried to wrongly send him to a mental hospital following the "arrest," claiming he was "addicted to drugs." He places blame on a few people for this including ex-co-CEO Nicola Kilner, whom he calls, "STUPID" (in all caps), insinuating that she is being "heavily investigated."
Truaxe also hints that they used his time away to defame him. He accuses Deciem's senior team, lawyer Jonathan Behar, shareholders and directors, of betraying his trust by sending him there. He explains that after examining him, the hospital said that there was "no mental issue at all," but he went along with the visit ("I played along with so much laughter inside me").
Our shareholders, now-concerned and then-concerned about the financial crimes they had committed that I had to report, and also because they would have a serious advantage to push me out of DECIEM at a significant discount for my shares if they could provide "cause" for my termination, conveniently "assumed" that I was actually arrested by London police and went on further to claim that I was addicted to drugs, like STUPID (and soon heavily investigated) Nicola Kilner had "reported" several times before I terminated her.




They gathered completely-useless "evidence" that I would appear mentally unstable to place me under a "section" within the UK laws, but very quickly the private hospital they had hired in London realized that there was no mental issue at all, I didn't touch any drugs at all under their extreme monitoring and daily tests, and that simply everything was OK except that "this" "successful", "intelligent" (but also emotionally and financially "generous") Founder, CEO and "worker" who seemed completely OK to everyone at the hospital was himself in a private, expensive London MENTAL hospital!
3. He might be pursuing legal action.
Truaxe says he will be making claims against Estée Lauder (a minority shareholder) and Pasquale Cusano (Truaxe's other business partner, who owns 28 percent of Deciem).
I will now begin a long journey of making claims of unprecedented-in-business (and in "life" perhaps?) proportions against "our" shareholders, controlled by Pasquale Cusano and Estée Lauder Companies Inc.,….
4. He told you so.
Truaxe assures everyone that he is fine, stating, "Please do not worry about my safety at all." But he's upset at several people who didn't believe he was okay and calls them out by name, among them Ali, Riyadh [perhaps Swedaan, manager of the Toronto factory], Shamin [Mohamed Jr., Deciem's director of operations], and Jonathan [Behar]. "You should have listened to my several emails to you saying the same thing over and over again: listen to your soul, not others," he writes. They are instructed to email him to confirm their allegiance.
Ali, Riyadh, Shamin — please each email me something warm that doesn't say the obvious (that you're sorry) — but one that instead says that we are now stronger than ever and that we won't repeat this betrayal of our trust again.
5. He says some people will never be forgiven for their "crimes."
Someone named Jonathan (perhaps Behar, his lawyer) will be forever on his bad side for not believing Truaxe. He says:
I am and have always been your trusted Brandon.




Jonathan Behar, neither I nor the world can forgive you — EVER. You were and are a lawyer above a friend — what you did should be referred to as "illegal" irrespective of "Law Societies" to cover "ASSES" of legal "practice". If one practises enough, Law (and even "Medicine") wouldn't need to be "classified" as "practices" to cover any ASSES (or "rear ends" to be im-political).
6. He's questioning the loyalty of a new employee.
He includes a note for Mohammed Ali Iranpana, whom he identifies as the first employee of Deciem's new fragrance brand Avestan:
You better be prepared to join your brother and Avestan no later than June 1st; otherwise, I will truly begin to question whether or not you somehow became brainwashed enough by "them" to become an accomplice to "their" crimes.
7. He thinks the Royal Wedding wasn't very well planned.
He calls the $45 million wedding which included rooftop snipers as security "semi-rushed." (He might be intending this sarcastically).
8. He calls George Clooney's attendance at the Royal Wedding a "coincidence."
He says, perhaps jokingly:
Side note for our "marketing" comedy: am I being a bit too "silly" or was it so odd that George Clooney "came" and came (haha) ALL THE WAY from the USA to a semi-rushed Royal Wedding in the UK (involving a beautiful Prince, a Canadian [like me] and a message to the world that we are all Royalty by being human — or that no humankind is really "Royal" anyway like "The Ordinary" "kind of" says to "La Mer" "users") all in the exact same "week" that I, the Canadian, the Founder of The Ordinary, was in the "mental" hospital in the UK and while I have kept talking about George and "his" film, "Burn After Reading" for months?
9. Someone tried to take away Truaxe's access to Instagram.
He pulls rank, addressing the Deciem social team:
Shamin/Brandon M. — NEVER again change the IG password without my approval. I was "then" (when you "signed" "stuff") and AM the C.E.O. of DECIEM, the highest executive authority "today" within the company and its sister (and "brother" haha) companies globally.
10. He wants to be believed.
He has a request for those reading the letter:
Please support me and our world in making the bigger world a better place "for you and for me" — for all of us — let us together "Heal the World" as Michael Jackson kept "begging" so beautifully without ever begging — a "long" time ago.
11. He says he's being protected.
He's traveling right now, but he says he's okay, with the support of "several governments."
Several governments have indirectly provided a tremendous amount of monitoring and security for me during this period and will continue to do so to ensure my ongoing security and the security of the loving people "around me" whom I love immensely. Aref is safe with me as well — we will be travelling for about a week together. We are having a fun and "informative" time in Amsterdam and will go to France, Morocco and then the USA very soon for "my" very exciting "upcoming" board meeting requested urgently by one of the idiots who tried to frame me.
12. He will never leave Deciem.
He adds as a postscript:
P.S. — I WILL NEVER, EVER LEAVE DECIEM. I very clearly wrote so in my public "letter" (still "up" at deciem.com/founder) after The Estée Lauder (Louder??? and then WAY TOO LOUD???) Companies Inc. became an investor in DECIEM last June — but "no-one" was really reading anything in my letter "apparently" — or "maybe" "they" just weren't "listening" despite "the best of intentions". ;-)