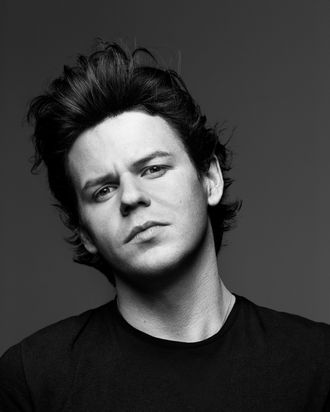 Christopher Kane.
Photo: Courtesy of Christopher Kane
When Christopher Kane was 16 years old and growing up in a small village in Scotland, he was already well on his way to becoming a designer. "I remember making little garments [in art class], stitch samples and stuff so I was very hands on and I suppose textiles is really big for the business now," he says. One of his first garments was a latex tank top painted and embroidered with Japanese gangster-inspired tattoos, which he entreated a male classmate to model. "There's still Polaroids existing somewhere," Kane says.
Kane went on to study at Central Saint Martin's, and proceeded to sweep up the prestigious Harrod's Design Award with the alt-sexy, lace and chain-mail-filled pieces he designed for his graduate collection in 2006. Since then, he's been a fashion force to be reckoned with. (Editors were crouching in the aisles of his hotly anticipated first solo show later that year.) In addition to his own label, he designed for Versus Versace from 2009 to 2012, accrued multiple design awards and collaborations (he won Womenswear Designer of the Year at the British Fashion Awards in 2013 and has worked with Topshop, Manolo Blahnik, and more), yet remains one of the industry's most down-to-earth personalities.
While his high-profile career highlights are countless, Kane's proudest moment is in fact an emotional one: "The one that always stands out is when my mum died three days before a show which was three years ago. That was probably one of the hardest things I've ever accomplished — actually still doing the show in memory of her three days later. It was tough but I'm very proud of it too," the designer says.
Below, Kane spoke to the Cut about displaying The Joy of Sex on his coffee table, what you'll never find him wearing, and the enduring appeal of a frilly bed. Read on for the full Q&A.
How do you thank people for a gift?
I think a kiss and a cuddle or a note or sometimes I send balloons. A lot of helium balloons. Quite sweet. It's unexpected and it always makes people smile and laugh.
Mood lighting or natural light?
Natural. I'm really not a fan of harsh lighting. It can make you look really old. It's always nice to be in natural sunlight or, I suppose just nature. Nature is best.
What are five coffee table books you'd be proud to display?Obviously the most topical would be The Joy of Sex, which is part of my latest collection. I've always got one of my favorite photographers Joseph Szabo and it's a book called Teenage. I recently got a new book which is called Night Fever: Designing Club Culture and it's by the publisher Vitra which is really amazing. I've also got a new book called Naked Nurses by Richard Prince which is really kinky and gorgeous. Then one of my most favorites is a book called New York and it's by a Japanese photographer called Keizo Kitajima.
What would you never wear?
Well, never say never — but Speedos. You never know. Maybe one day but right now I don't think I'll be wearing Speedos anytime soon. Other people should wear them but not me.
What's your favorite song on your playlist right now?
I do like gospel quite a lot strangely enough. One of my favorite songs is "Just a Closer Walk With Thee" and it's by Mahalia Jackson. It's just so beautiful.
If you were a car what kind of car would you be?
You know the car that's in Care Bears? The cloud car. Even though it's a make-believe car, I love that little car. I was obsessed with Care Bears growing up and I loved that car, the cloud car, it was so beautiful.
What's another decade you'd like to live in and why?
Japan, Tokyo, in the 1970s, just because I love Japan and obviously the '70s Tokyo, that's just beyond amazing. The arts scene and the music scene and the city that never sleeps really. It's like another dimension compared to New York. It's just an amazing place and culture-wise it's magical.
What's the secret to throwing a good party?
Alcohol. I make a really good gin and grapefruit cocktail. The right people, the right soundtrack. It can be in a dumpster, it can be in a posh hotel suite but I think no matter what, if the people are wrong and the alcohol's wrong and the music's wrong then you're fucked.
What's your guilty pleasure?
Sleep. Because I don't sleep, I've got really bad sleep habits. For some reason my brain becomes really active at night and I can't really sleep that well. I think when you have a really good heavy sleep, sleep is a real luxury and I don't get enough of it. I wish I could understand why. I think that just to get back to bed, turn the alarm off and sleep for a day would be the ultimate.
What's the last show that you binge watched?
The last show which I finished last night was Wild Wild Country on Netflix which is about a cult in Portland. It's really good. I've got a real thing for cults and legends. It just shows you how people can be so extreme and why people believe and don't believe. Religion can be so corrupt and so great at the same time. It's really a phenomenal documentary. Well done to the makers. You spend the whole duration with your mouth open like, "What? What the fuck? What?"
What's your favorite…
Pair of jeans?
Right now I'm wearing a really old pair of boyfriend Levi's. They have holes all over them, but they're my favorite jeans because I've had them for over 12 years. They hold a lot of memories. I got them in a secondhand store in Scotland.
T-shirt?
We did these killer monkey T-shirts which was based on Planet of the Apes and I still have the original gorilla screen print. I love that T-shirt. I have one with this beautiful gorilla with its mouth open, which other designers adapted for themselves. I won't say any names. Day to day I always wear James Perse. That's a good thing, black.
Pajamas?
I'm not a big pajama-wearer. I don't like being constricted in bed or in the sense, I overheat so I usually just wear underwear and a T-shirt. Simple.
Flower?
I like ugly flowers. I like weeds. I like things that other people don't. I like weeds because they're survivors and they can grow anywhere and anytime. Weedy flowers, I like things that aren't so pretty, they're much more twiggy and stuff. I like things that are in the shadows, twigs and weeds. I like dried flowers a lot — dried roses or dried peonies. I think they're more beautiful, cremated flowers.
Chocolate?
Green & Black's. I like their salted caramel. I like cheap candy and I like expensive candy. Anything goes as long as it's got sugar in it and it keeps me going.
Fragrance?
I'm wearing two at the moment, I'm wearing the Rhubarb by Hermès, quite a sweet smell. Then I'm also wearing Rodeo by Byredo which is really also very sweet but they complement really well together. I like to layer perfumes and make one scent. I've always done that.
Sheets/linens?
This is a new discovery, well it's not that new, maybe ten years ago but I get a lot of Yves Delorme. It's all very floral and ditsy. It's a really old granny, it's like a grandmother's — I like quite frilly bedwear.
Lip balm?
Blistex. It's a classic and it keeps away all the chapped lips for me. It's something that I'm very conscious of, my lips can be burned really badly in the sun so I'm always making sure they don't get too much sun.
Photo: Courtesy of the Vendor
If you buy something through our links, New York may earn an affiliate commission.