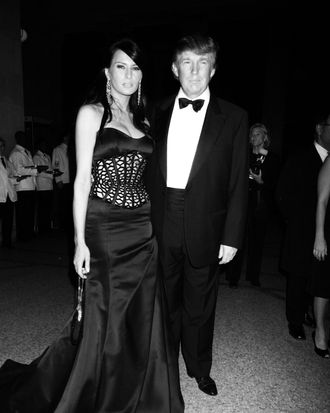 Donald and Melania at the 2004 Met Gala.
Photo: M. Von Holden/FilmMagic
As we brush off our rosaries in anticipation for this year's Catholic-themed Met Gala, let's take a moment to look back at 2004's event. The theme? "Dangerous Liaisons: Fashion and Furniture in the 18th Century." The most dangerous liaison of the night? Sadly, not fashion or furniture, but Donald Trump and Melania Knauss's engagement.
Yes, Donald Trump proposed to his now-wife during the Met Gala. Some people (me) would say it's a lot like proposing during someone else's wedding (rude). He then lied about the cost of the ring and, as of last year, he is no longer welcome at the event.
Anyway, the rest is history and also the constant horror of the present.