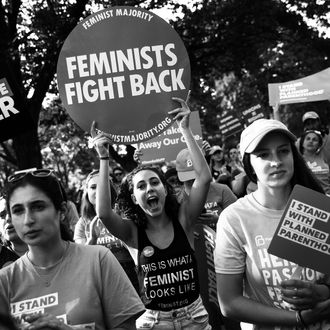 Photo: Drew Angerer/Getty Images
The Trump administration's record on reproductive justice is nothing short of abysmal, and according to the New York Times, Donald Trump is expected to announce his next ghoulish attack on abortion rights on Friday: a "domestic gag rule," which would cut federal family-planning funds from Planned Parenthood and other reproductive-health organizations that even mention abortion as a family-planning method.
While laws about federal family planning already prohibit direct funding of organizations that offer abortion, this plan would take it one step further by barring abortions in any clinic where federally-funded reproductive-health services are offered. So, under this plan, if organizations didn't want to lose this funding, they would have to stop discussing or performing abortions — an option that few would likely choose.
The Times notes that were this policy to be enforced, the state of abortion rights would reflect those under Ronald Reagan in 1988, when his administration required a "physical separation" between abortion services and other family-planning priorities.
This expected announcement comes just a little over a year after Trump reversed an Obama-era rule that prevented states from withholding Title X family-planning money from health-care providers that offer abortion as a family-planning option.