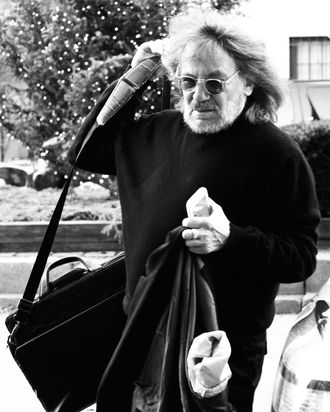 Dr. Harold Bornstein.
Photo: New York Daily News Archive/NY Daily News via Getty Images
Oh wow, I'm positively shocked; I simply cannot believe that Donald Trump's former physician, Dr. Harold Bornstein, told CNN that he did not write the medical report that claimed Trump would be the healthiest president in U.S. history. Really, I am extremely surprised!
In December 2015, the Trump campaign released one single report about the then-presidential candidate's health: a four-paragraph-long, hyperbolic letter that said Trump had "extraordinary" physical strength and stamina, and that he would "be the healthiest individual ever elected to the presidency." The letter was apparently written by Bornstein, though according to new reports, the doctor didn't author it.
"He dictated that whole letter," Bornstein, who has recently resurfaced in the wake of the Ronny Johnson scandal, told CNN. "I didn't write that letter. I just made it up as I went along."
This claim follows Bornstein's allegations earlier today that members of Trump's team raided his office in February 2017 — which the doctor compared to being raped — and seized all of the president's medical records. While the White House called the aforementioned report "standard procedure," they have yet to respond to Bornstein's claim about the health letter.
But really, the man who regularly eats McDonald's (though sans bread, to his credit) and doesn't exercise because he was "born with a finite amount of energy" isn't actually extraordinarily healthy? Again, shocking.