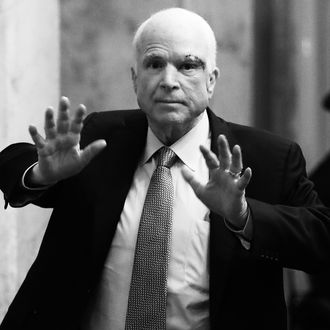 Senator John McCain.
Photo: Win McNamee/Getty Images
If Donald Trump thought his decision to skip Barbara Bush's memorial service would be the last funeral drama in which he'd find himself embroiled, oh, was he wrong. According to the New York Times, 81-year-old Senator John McCain is currently compiling his dream guest list for his funeral — smart, given the nature of death! — and Trump is not on it.
In mid-2017, McCain announced that he was battling an aggressive form of brain cancer, and in the Times report, Biden describes McCain as "ailing." Therefore, in the comforts of his Arizona ranch, the senator is reportedly receiving old friends and considering his life's biggest regrets (cough, Sarah Palin).
He's also thinking about his funeral plans:
His intimates have informed the White House that their current plan for his funeral is for Vice-President Mike Pence to attend the service to be held in Washington's National Cathedral but not President Trump, with whom Mr. McCain has had a rocky relationship.
While it's understandable why McCain wouldn't send Trump an invite, it seems like sending him an invite to guilt him into going to your funeral (if Trump is capable of experiencing such an emotion) would be a much more fitting punishment.