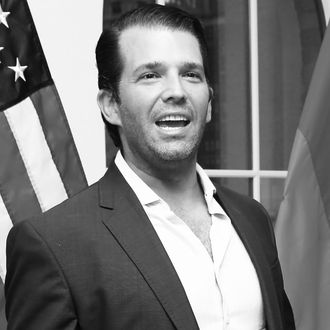 Donald Trump Jr.
Photo: Sylvain Gaboury/Patrick McMullan via Getty Image
It appears that an actual human woman has romantic feelings for Donald Trump Jr., the CrossFit evangelist, the man who strikes up conversations with oversized chocolate bunnies, the asshole big-game hunter, the freaking guy who sent suggestive Twitter messages to a model while married.
According to multiple sources who spoke to "Page Six," the First Boy is dating none other than Kimberly Guilfoyle, the former Victoria's Secret model and current Fox News host who once said that young women should "go back to Tinder" instead of voting. (It's rumored that Guilfoyle also had a thing with Anthony Scaramucci after his wife filed for divorce in late 2017.)
Because Trump himself is in the midst of divorce proceedings with his wife Vanessa, sources say that the new couple is trying to keep their relationship under wraps, though they arrived together at a party for President Donald Trump's new ambassador to Germany last Sunday — clearly, they're not putting in too much effort to keep whatever it is that they are a secret. Apparently, Trump and Guilfoyle have been dating for at least a few weeks, though neither of them responded to requests for comment from "Page Six."
One source told "Page Six," "Don Jr. and Kimberly are seeing each other, and are having a great time. While he wants to respect the privacy of his family, he is getting divorced, and he enjoys Kimberly's company."
Guess the ol' Trump Boy can log out of all his dating apps for now.